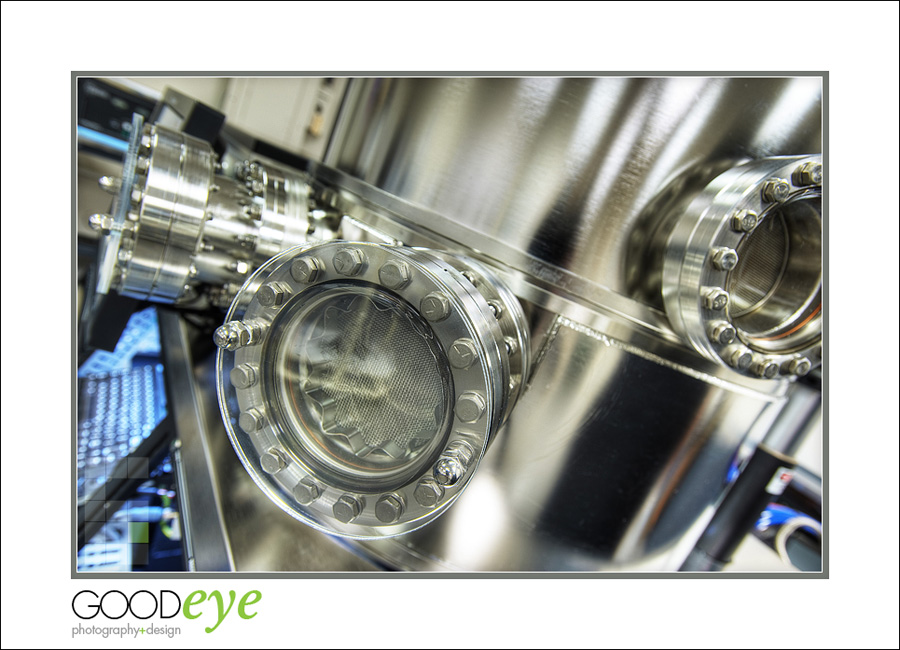 Technical Engineering Services, based in Santa Cruz, was about to ship off a couple of their latest custom-built behemoths – big ol' High Vaccuum Sputtering systems. These puppies are equipped with the latest in ion gun technology and plasma doohickies. As far as I understand it, they're used to coat objects with different types of exotic metals. They are almost submarine-like in their thick, welded metal walls and large bolts – and have a definite presence in the room, especially when the lights are off and the purple plasma can be seen glowing through the porthole-style viewing windows.
Because these devices are big with lots of shiny metal, they are pretty challenging to light for photos. I decided to start out getting some High Dynamic Range (HDR) photos by bracketing 7 shots using my D3 & 17-35 lens on a tripod. Typically HDR photos are for outdoor, high-contrast scenes, but it can produce some interesting results indoors, especially with reflective metal surfaces (as you can see in the photo above). I used the ambient fluorescent lighting (every photographer's favorite!) and corrected it in post.
After getting the "hero" shots of the vaccuum systems, I pulled out my new FourSquare softbox using Four SB-800s as the primary lightsource. Because this solution is very light, portable and wireless, it was useful for getting some nice detail shots. I also threw a couple other speedlights inside and around the machines to get some light where I wanted it. Check out some of the photos in the slideshow below, the rest of the photos are at www.goodeyephotography.com.
[slidepress gallery='tes-vaccuum-systems']