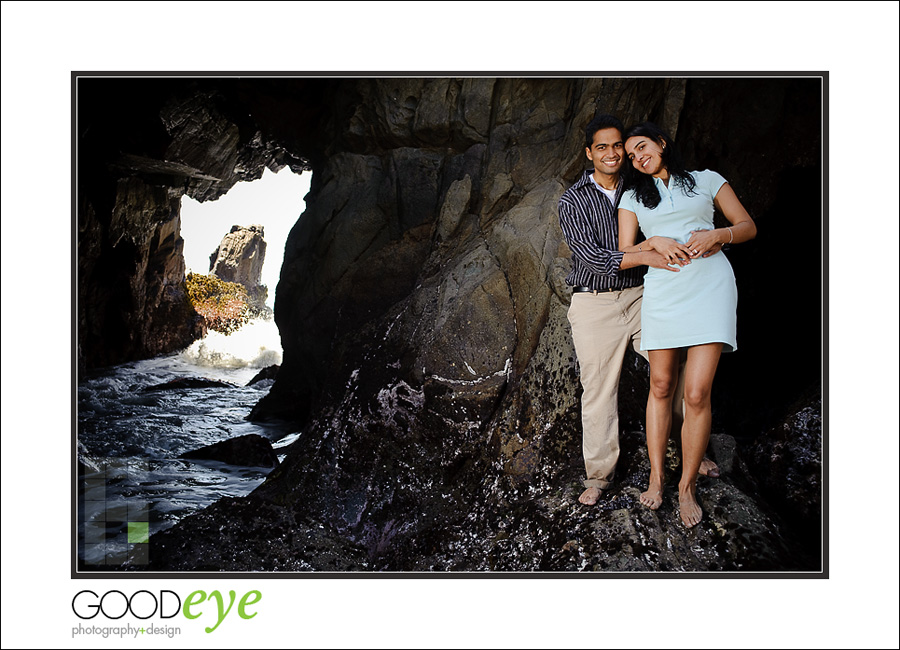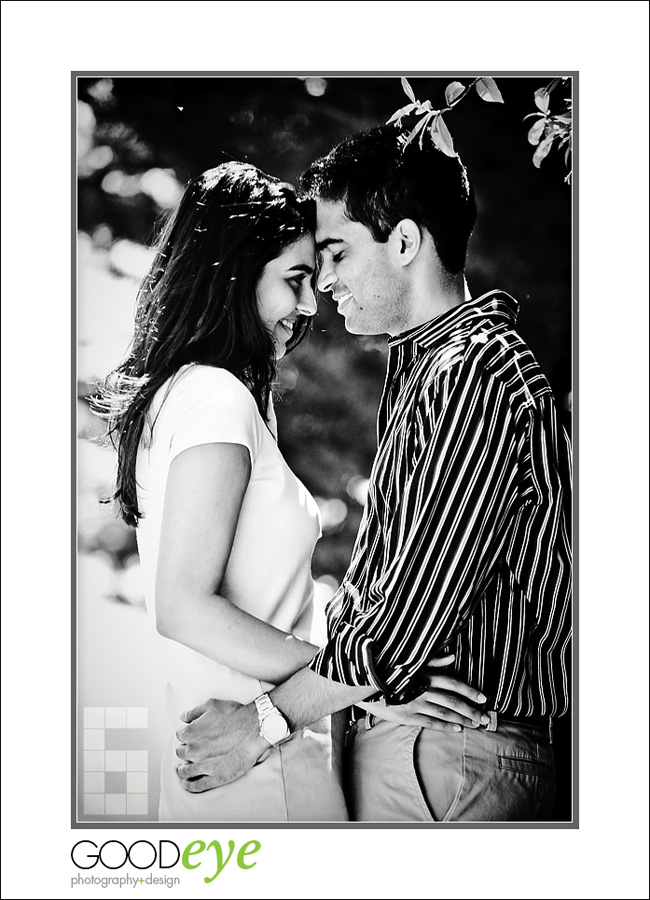 I met Gaurav through my Yelp profile, he originally wanted me to take photos of his actual proposal. I was thinking, cool, I will finally be hired to to Schmauch-arazzi work! But alas, plans changed – I guess the pressure was too great. However, his fiancee said "yes" this morning so I made my way down the coast to meet the newly engaged couple at Ventana Inn, Big Sur. They have a private little wedding area with a gorgeous panoramic view of the ocean, so we started our photo shoot there. After 20 minutes or so the three of us hopped in my mustang and drove down to Pfeiffer Beach (not the direct route, mind you – it's an unmarked road and we had to ask the locals even though we had a map!).
Once we made our way down the two-mile, single-car-width road to the beach parking lot, everything was looking pretty familiar. I'd been here a couple years ago, but had forgotten about it because I was there for only 5 minutes – the wind was blowing SO hard you couldn't see. Well today wasn't much different, although the sand mostly stuck to stinging our legs… When we got to the actual beach we saw a Jewish wedding ceremony, the hoopa flappin' like crazy in the wind. I felt bad for them, but not so much because I had to figure out how to make our shoot work!
I'm glad Gaurav and Isha have adventurous spirits, even if I did have to coax it out of them. We crawled over rocks, through ice-cold water, braved stinging gusts of sandy wind, nested in the tall grass, crawled around the treacherous caves, and even climbed a tree. Even though I was using my bare speedlights and no umbrella or softbox, my lightstand still managed to blow over a couple times – but no lasting damage thank goodness. The worst thing that happened was one of my socks blew away, I think my clothes dryer will be jealous. At the very end, sweet, disheveled, freezing, east-coaster Isha finally informed me she's more of an "indoorsy" type… OOPS! My bad. Thanks for braving through the elements with me!
In the end, we got some excellent shots I'd like to share on this post. Below is a slideshow of my favorites, or check all 139 final photos here.
Hint: Click Slideshow Below for Full-Screen Presentation
[slidepress gallery='gaurav-and-isha-engagement']
Like what you see?
Click here to see Chris' Wedding Photography Portfolio
Inquire today about scheduling your next photo shoot (408) 431-4808
If you haven't already, feel free to review our portfolio site, browse past weddings, check our romantic engagement sessions, follow our business on Facebook (like us while you're at it!), or read our awesome Yelp reviews.