I met up with my friend and business partner Joelle Cruz today to do a shoot for one of our new advertising clients – Bling Nation. This is a fast-growing, well funded company that has entered the financial processing arena – competing with credit & debit cards at the local business level. They've recently partnered with a little company named PayPal, so it's just a matter of time before everyone's "blinging" to pay for their coffee at the local shop. In a nutshell, the consumer puts a sticker (with a unique, embedded RFID inside) on their cell phone. To pay for an item, you simply tap your phone on the business' bling thing and the receipt is texted to you. A small business can start using the Bling setup at no cost (for now) – and can even manage and track their customers' usage and control promotions. On top of that, Bling charges half the amount as credit and debit card companies for processing transactions. Bling is only in Palo Alto for now, but they'll be expanding dramatically in the coming months!
Joelle and I visited some of the local Palo Alto businesses to get shots of the owners and the Bling point-of-sale collateral. One of Bling's promotions is they're giving out their stickers to consumers pre-loaded with $20! You simply register it at the business you picked it up at and start spending right away. Check out the next issue of Made in Palo Alto magazine as we'll be bundling these $20 bling tags in every issue…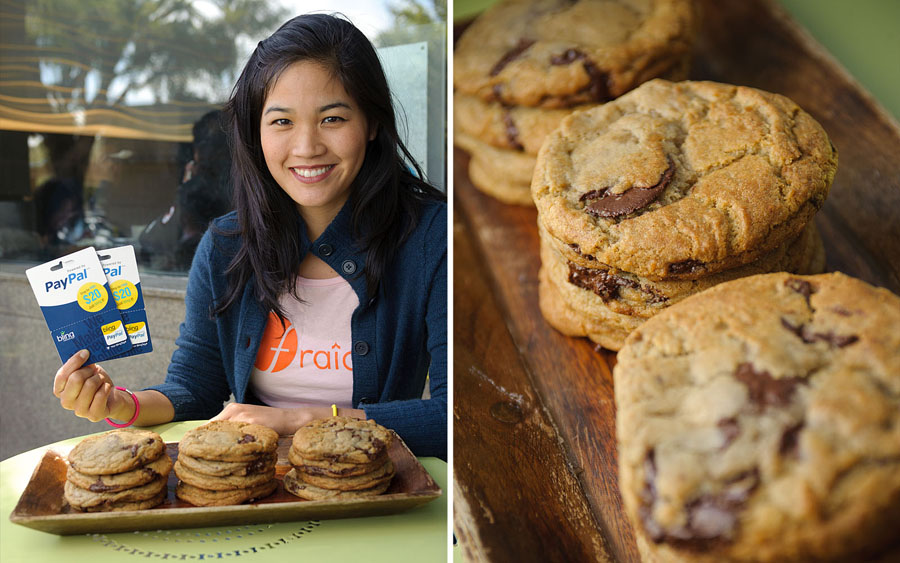 This is Patama Roj, owner of Fraiche Yogurt in Palo Alto. I'd actually met her before when I took some photos of her place back in April. She's promoting her baked goods right now, and as I pushed a sample into my mouth I can say that's a growth business for Fraiche – man they are good!!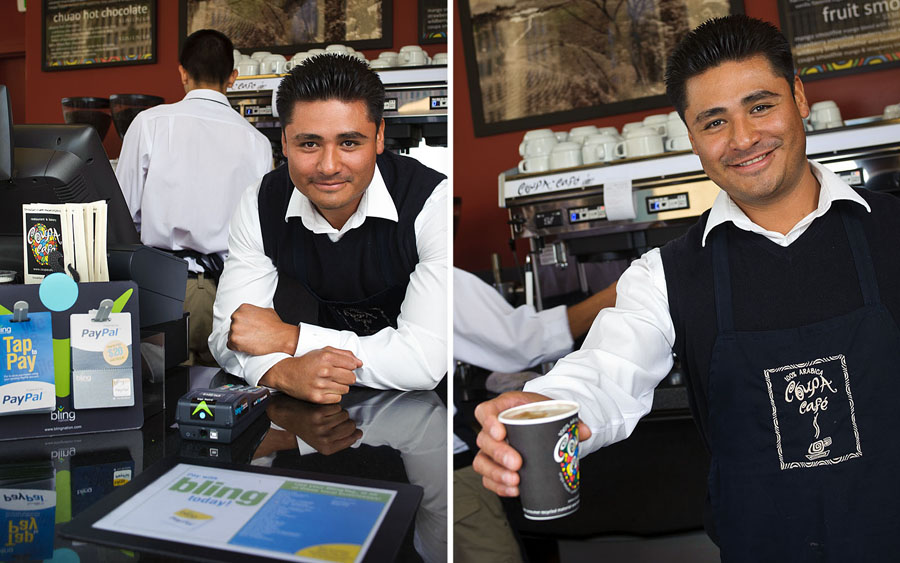 This is a cashier at Coupa Cafe on the Stanford University campus – he was kind enough to pose for a few shots even though he had no idea we were coming. He was a pretty photogenic guy, though, and was a good sport.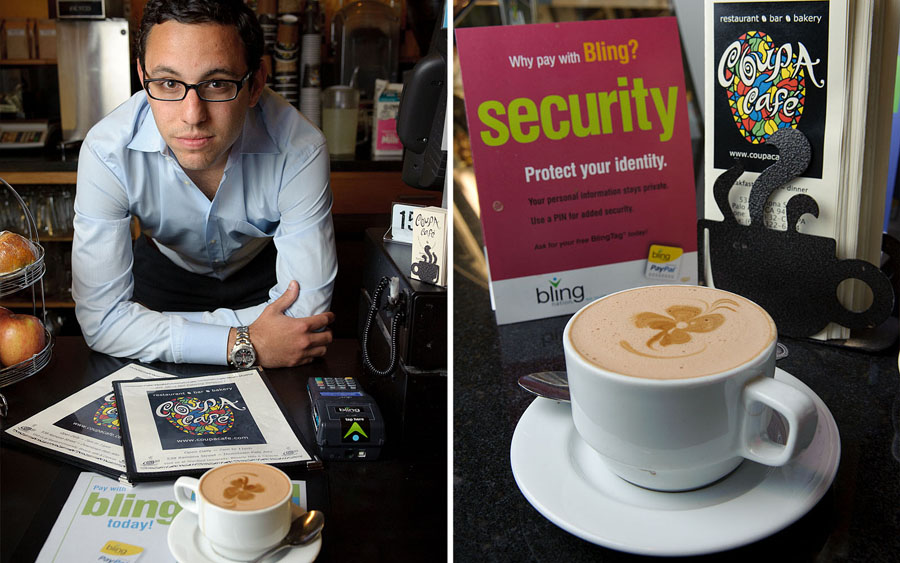 This is Jean Paul Coupal, owner of both Coupa Cafes in Palo Alto – this one on Ramona St. Note the Bling gear and the signature shamrock in the latte. Nice!


This is Jimmy Viglizzo, owner of Johnny V's Sports Cafe on the Stanford Campus. Jimmy is a friendly guy and was excited to show off his Bling point-of-sale setup.


Lynn at University Cafe was kind enough to pose for us during the busy lunch hour, showing us her Bling setup. Another great coffee joint!


Lastly we ventured over to Antonio's Nut House on California Ave. in Palo Alto. Bling works in bars too, as our friendly motorcycle dude demonstrated below.