I've waited SO long to do a Trash The Dress (TTD) session with one of my brides. Everyone always chickens out, but I can see why – the wedding is still fresh, and nobody wants to leave the party to change out of the wet dress (or destroy it, for that matter). Last year I ran into Stacy and her mom at a restaurant in Campbell where I was shooting some food. We got to talking and she brought up how she wanted to do a TTD session with her wedding gown. She didn't see herself ever needing it again, so around six months later we finally worked out how we want to destroy it, and where.
I met Stacy and her friend Nick at White Crane Winery in Livermore (which Nick owns). He was kind enough to host the photo shoot on his birthday, and even donated the four or so bottles our shoot "required." It was 10am when I got there, and 11am by the time we figured out where we wanted to shoot and all the other logistics involved – so definitely not ideal lighting getting close to noon. But I really like a punchy, dramatic, colorful, crisp look to my photography these days, so with some powerful off-camera flash I was able to work with the harsh sun no problem.
We started out by taking a few "normal" photos of Stacy in her dress around the property – you know, to memorialize the last moments of the clean gown for posterity's sake. Then we headed out into the vineyard to get on with the pouring.
We decided to start small. I filled Stacy's glass with some of Nick's delicious 2007 Cabernet Sauvignon and she promptly tossed it up into the air above her, just like we'd practiced earlier. I got a great mid-air shot, but most of the wine went behind her. No worries, that was enough practice. On to the big guns.
Next I had Stacy pour two bottles of Cab on herself at the same time. We got an excellent series of this which I'm really happy with. But her head was still clean, which wasn't cool with me – so I had her dump another bottle right onto her face. She obviously had to close her eyes to avoid the burning alcohol, but the shots totally make it worth it.
Now covered in red wine, we decided Stacy needed to be hosed off. We walked back to the yard in front of the main house and Nick did a little off-camera hosing while I snapped photos. I think they came out great.
Soaking wet, stained, train dragging mud across the gravel, Stacy followed Nick and I to a funky broken down forklift that's painted like a cow. Perfect prop right? We took a few shots, then decided Stacy was looking too clean – so Nick ran back to the house to get some shoe polish. Yup, that did it. The dress was finally, irreversibly trashed.
I'm so excited that my first TTD session wasn't some pansy frolic through the waves at the beach – the only way we could've taken this shoot to the next level was with fire – and I'm no pyrotechnics expert so that was off the table.
Enough chit-chat, here's the photos, along with my commentary. Enjoy, and leave a comment!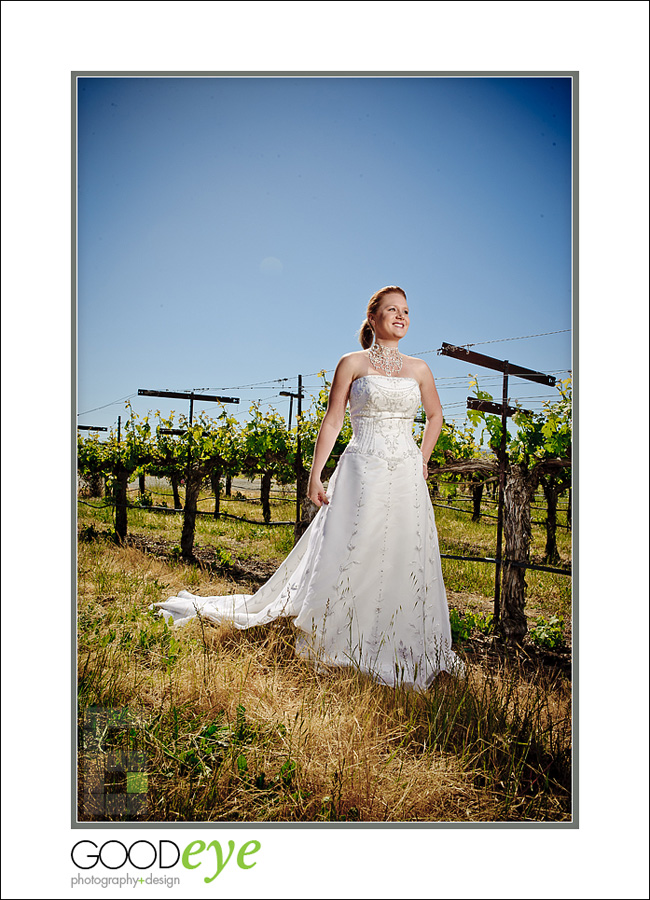 Near our final location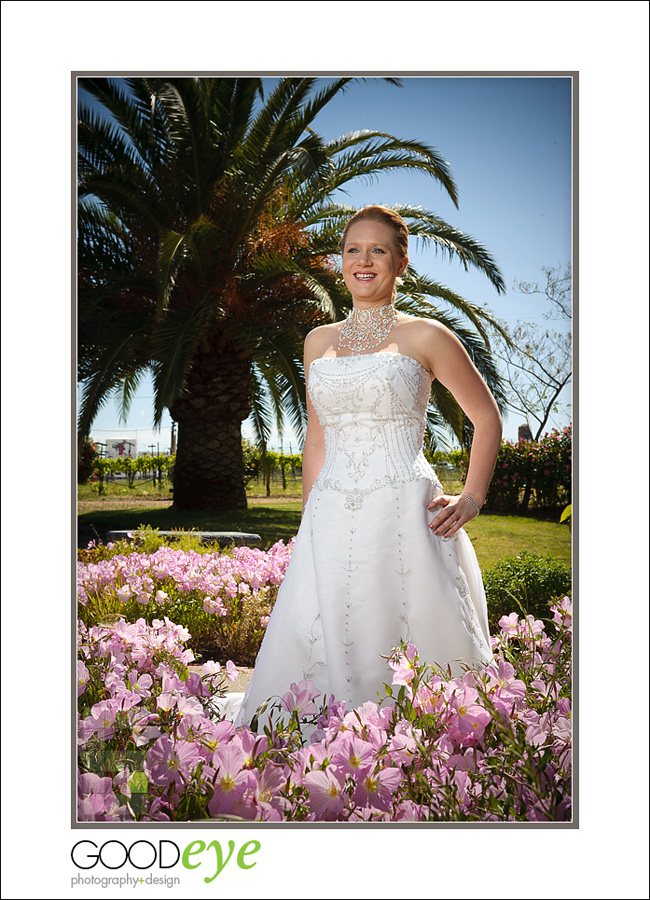 Under a really cool palm tree


Trash the Dress!! Ha. Ha. Ha.


You can see my four lightly-diffused strobes that provide the key light in the shots below.


Popping open the wine




Practicing with closed bottles to get the pose right


Starting small – with just one glass of wine


Going big now. Kind of reminds me of that Carrie movie…




That's what I'm talkin' about!


Is that a double rainbow? Hahaha…


Just enjoying a quick shower


"Does this thing work?!?" Don't drink and drive!




Love this shot




The shoe polish adds the finishing touch