After their rockin' superhero engagement session at Nisene Marks forest, I was anxious to see what this enthusiastic and fun-filled couple had planned for their wedding way up in Sonoma. I was a little concerned about how good a culinary school would look for a wedding, but once I got to Ramekins and scoped out the property, I was pleasantly surprised at how great a wedding venue it is! It's modern, spacious, and the opportunities to dress it up or down are limitless. Read on below for the highlights of this wedding via my favorite photos + commentary, or hop over to www.GoodEyePhotography.com to sift through all 1,000+ photos.
Vendors and Shout-Outs // Floral Design: Julie Harris Floral Design / Catering & Cake: Ramekins / Wedding Dress: Maggie Sottero / Hair: Salon Novo / Makeup: Alan / DJ: Stan Loh  / Private Dance Lessons: Sofia Ahmad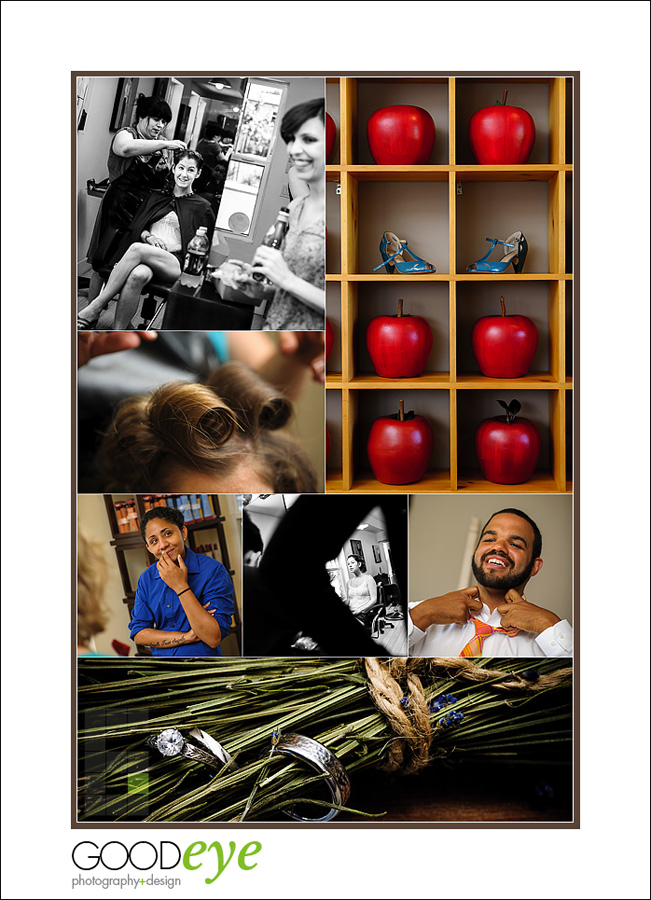 Ramekins has some great props laying around for us photographers to geek out on. Hence, apples – and rustic, bound weed-things. Hey, it's all about texture, color and composition, right?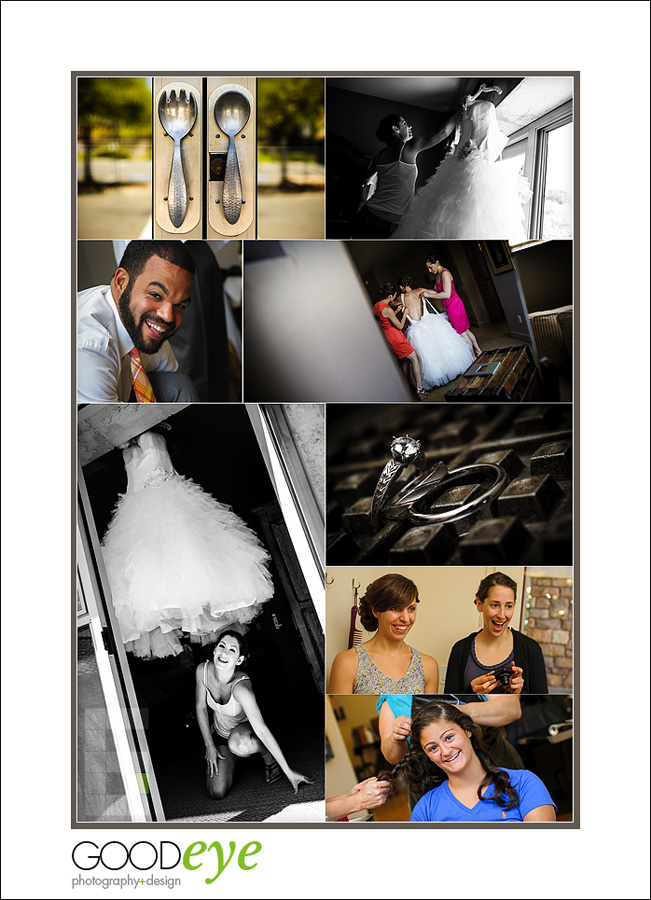 Aw, fork and spoon door handles. Cute. Here's Jessie and Evan getting ready in their separate suites. I think hers was nicer. Check out that fun wedding dress! Oh, and I stick the rings in a waffle iron – because I can.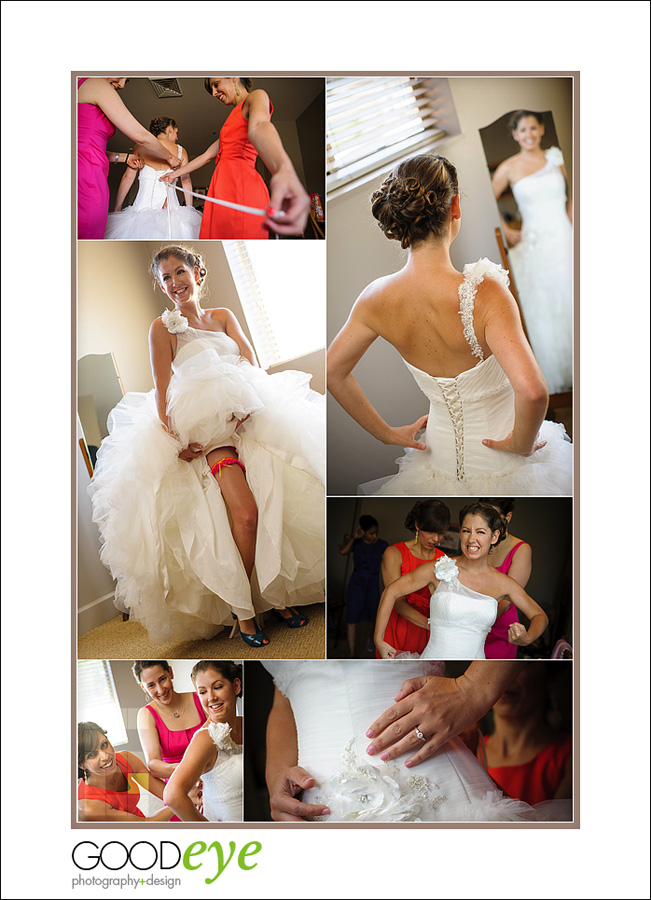 Sassty! Sexy! Jessie is the whole package, and picked the perfect dress to show off her vivacious personality. You can also see how colorful she's dressed her bridesmaids. There's lots of color in this wedding, just wait…


I love the quality of light while Jessie arranges the veil. Beautiful. Then we head to the park downtown for the First Look and some bride and groom formals.


We blindfold Evan with a tie while Jessie sneaks up from behind. Surprise! "Damn!"


We walk around and take photos at different locations in the park. Jessie and Evan practice their rehearsed dance in the parking lot.


Love these stair shots on the side of a nearby building. It was really stuffy and hot out, so the more I could keep the couple in the shade, the better. Me? I'm in the sun – but I'm also not wearing a suit. That top photo would look great in a magazine spread.


The guests are shielded from the sun's warm rays, and Jessie's dad gives Evan a high-five – awesome! Their closest friends all take part in the ceremony, making it really special for the couple.


Check out the color! So so pretty.


And they're hitched! Some fun bridal party photos.


The girls showing off their true colors. Aren't these guys funny?


How about that solar kiss? Beautiful.


Some nice details – I love how their favorite books are integrated into the table centerpieces.


I can hear Jessie's laugh from here.


Lovely speeches and details.


THe guys assuming the position, and Evan shows off his moves. Then it's time for Jessie and Evan to show off the dance they've been rehearsing. Classy!


Check out those funky glasses. Everyone is having a blast.


I don't think the fireplace was intended as a launchpad for frisky dancers. But it is now.


Dancing candlelight. Beautiful wedding for a lovely couple.
Planning a wedding at Ramekins Culinary School?
Bay Area Destination Wedding Photographer Chris Schmauch wants to shoot your big day! (831) 216-6210
If you haven't already, feel free to review our portfolio site, browse past weddings, check our romantic engagement sessions, follow our business on Facebook (like us while you're at it!), or read our awesome Yelp reviews.