Back in April I met up with Tiia and Justin for their engagement photos in Nisene Marks forest in Aptos. They were a little shy at first, so I'm really glad were were able to take the time to practice in a low-stress environment, where it was just the three of us without hundreds of onlookers. It was time well-spent, because when I met up with them on the morning of their wedding day, they were filled with excitement – and whether or not they'd get good photos was probably the last concern on their nuptial-addled psyches. The ceremony and reception both took place at Bargetto Winery in Soquel – scroll on for the highlights of the day, the photos I feel best represent the big and little goings-on. If you'd like to peruse all 1,000+ photos, I invite you to visit www.GoodEyePhotography.com.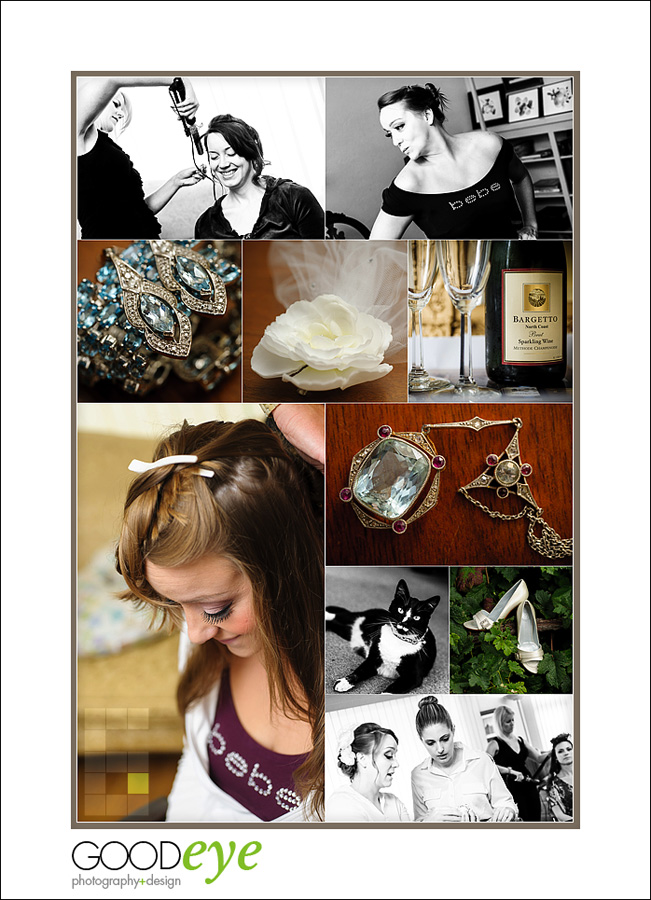 The getting ready stage is a great time for wedding photographers to capture all the little details – jewelry, shoes, the dress, and anything else that you feel will remind the bride of her big day for years to come. I caught Tiia giving her sassy face, then took her wedding rings out to the grape grinder. She forgives me.

There's that money shot of the wedding rings "stuck" in the rusty iron gears of the grape-grinder-thing. The lighting was a little complicated, but the effort paid off in spades.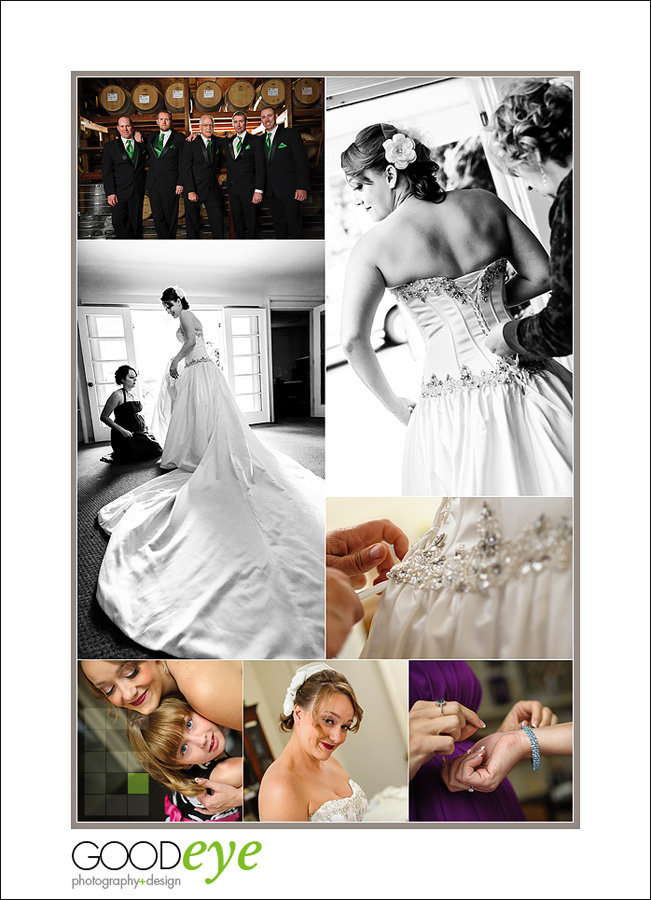 I love the B&W shot of mom tying up the back of Tiia's dress. How about those green accents on the guys? 


Don't cry! Think of the makeup!


A wonderful candid moment of Tiia and her bridesmaids – the flowers and dresses are just perfect. Tiia relaxes on the ground before the ceremony is set to begin.


Proud papa walks Tiia down the aisle. Justin is in awe of this gorgeous dame he's about to marry.


Fun bridal party shots – a little Charlie's Angels mixed in with a gun show…


Aw, my faves – the bride and groom formals. The Bargetto staff kindly gave me carte blanche to explore the bowels of their mechanical kiosks of wine-making miracle machines. Very textural, and mood lighting is key. 


Simple, classic and lovely cake design. Nice table setup in Bargetto's courtyard.




Lots of fun kid photos. They're always warming up the dance floor before the adults.


Some special first dance moments – b&g, father/daughter, mother/son.




A beautiful Soquel evening. 


Who invited the Scot? Looking fine, good sir. 


Congratulations Tiia and Justin, thanks for choosing GoodEye for your big day!
Planning a wedding at Bargetto Winery?
Bay Area Destination Wedding Photographer Chris Schmauch wants to shoot your big day! (831) 216-6210
If you haven't already, feel free to review our portfolio site, browse past weddings, check our romantic engagement sessions, follow our business on Facebook (like us while you're at it!), or read our awesome Yelp reviews.