Last time I met up with Jenny and Dimitriy was for their Foothills Park Palo Alto engagement session, so it was great to see these guys again on their wedding day. They are good friends of my past clients Jared and Jasmine – who in fact were both in today's wedding party. I love seeing past clients at future weddings, because  it means I'm doing a good enough job to get recommended to close friends and family. Jenny and Dimitriy's ceremony was at The Mission in San Luis Obispo (where I went to college), and their reception was at Cellar 360 winery (formerly known as Meridian winery) in Paso Robles. Below are photoboards and my own commentary that capture the highlights of the day through my favorite photos. Scroll down to continue the story, or jump to www.GoodEyePhotography.com if you'd like to view all 1,000+ photos.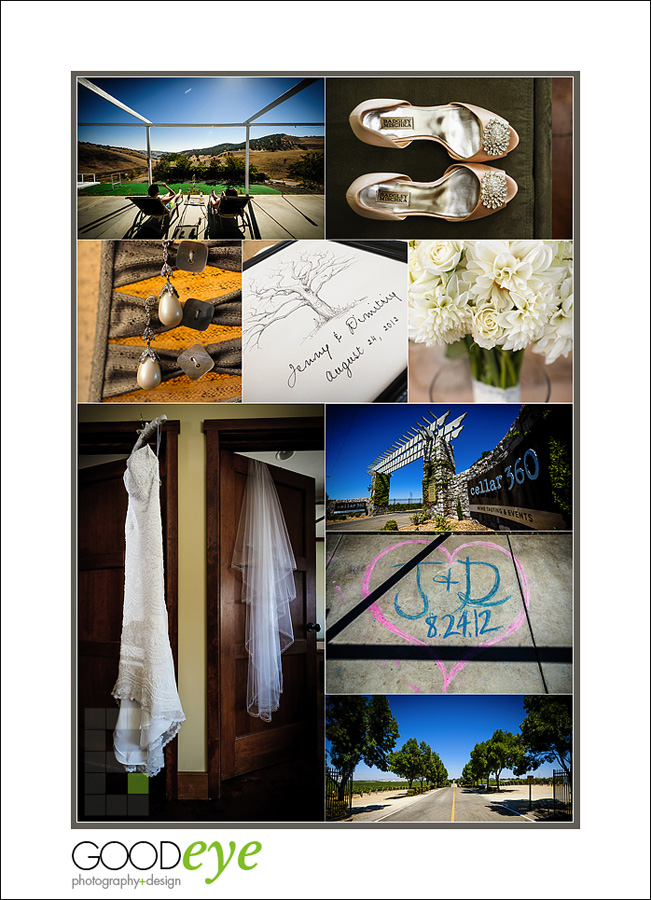 It was hot, hot hot – but clear and beautiful on this August day. I drove out to the middle of nowhere in Bradley, CA to meet up with Jenny and her entourage. They seemed to be recovering from the night before, but in high spirits and ready to take on whatever the day had for them.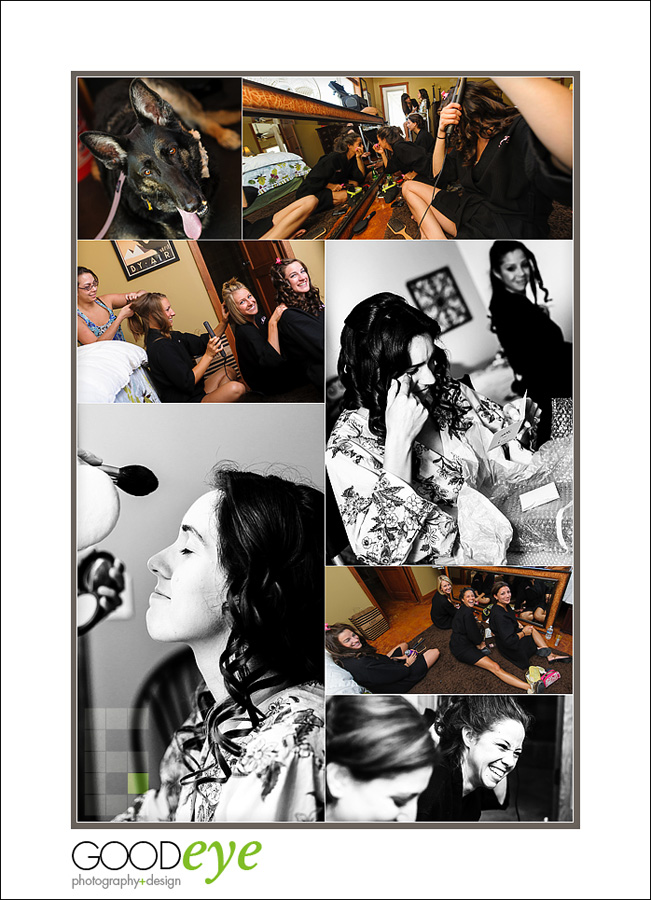 I love the big mirror on the floor for the ladies to get ready in front of. Inventive! Jenny sheds some tears reading a card from her sweetie.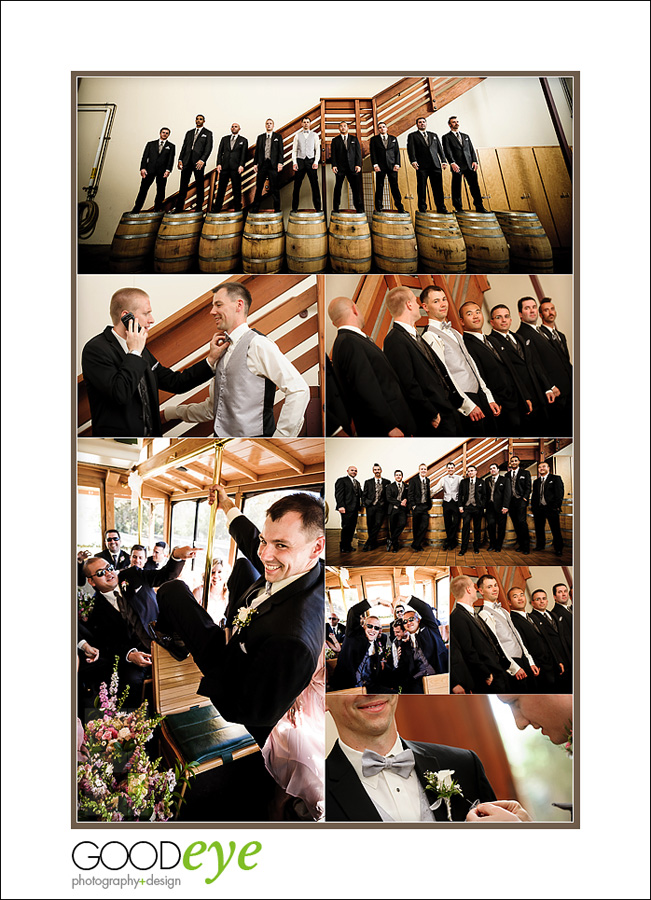 I met up with Dimitriy and his 8 groomsmen at Cellar 360 winery. I thought it would be a cool shot to have each guy on a barrel of wine. I thought to ask for permission, but then figured asking for forgiveness may be the better option. It made for a killer shot, even though I may not be welcome back… The SLO trolley picked us all up to take us to the Mission in San Luis Obispo. That was… a crazy ride. Here you can see Dimitriy doing a little pole-dancing. The driver was totally awesome, and I'm sure used to the wedding party rowdiness.


Jenny looking mighty gorgeous in her dress in her bridal suite at the Mission. That grin on her face says "Let's do this!"


The SLO Mission is a great little ceremony venue smack in the middle of downtown San Luis Obispo. There's generally a lot of foot traffic in the area, especially during the summer like this day, so there' no shortage of random well-wishers for the wedding party.


Love that shot of Jenny and her dad walking down the aisle. He's so proud, and she's barely holding it together after seeing Dimitriy way at the end, waiting for her.


Dimitriy picks Jenny up and swings her around after the ceremony is done. We get a few photos with their dog and of them alone.


Now the whole wedding party is on the trolley, ready to head back to Cellar 360 for the reception. Wait, I think we're missing a couple guys… 


We arrive at Cellar 360, and use the trolley as a prop for a few photos of the entire wedding party. 


The Cellary 360 grounds have plenty of opportunities for bridal party and bride/groom photos. Did I mention how hot it is? 


A few more shots of just the bride and groom, this time wandering into the vineyard a little for some romantic photos.


The bridal party is announced inside the main banquet hall. This is a large space, as you can see, and thankfully I've set up three powerful strobes in specific locations behind the barrel walls to help me create my unique, magazine-style, well-lit candid photos.



Didn't I see a spoon pirate at the last wedding? Must be "a thing." A few toasts, and the candid-shots begin.


First dance and cake cutting – let's just cut to the chase.


Tossing the bouquet and garter – getting that traditional stuff out of the way so we can dance and drink!


I love the fingerprint-leaf tree for the guests, very cute. I step outside for a different perspective of the action.


Everyone dances, and the bride and groom exit under a tunnel of well-wishing spirit-fingers. Congratulations Jenny and Dimitriy!
Planning a wedding at The Mission in San Luis Obispo or Cellar 360 in Paso Robles?
Bay Area Destination Wedding Photographer Chris Schmauch wants to shoot your big day! (831) 216-6210
If you haven't already, feel free to review our portfolio site, browse past weddings, check our romantic engagement sessions, follow our business on Facebook (like us while you're at it!), or read our awesome Yelp reviews.