My first shoot with Lily and Chris was back in March of 2012 for their engagement session in Uvas Canyon County Park which is south of San Jose and north of Morgan Hill. Lilly is a petite girl, but has a powerful presence; she vivacious and fun-loving, and I imagine as long as you stay on her good side all will be well with the world. People are drawn to this couple, so it comes as no surprise that they each had 8 bridesmaids/groomsmen – which basically means insane, non-stop party all day. I'll describe all the fun moments in the captions for the photos below – my favorite pics that I feel capture and tell the story of the day. Read on for the cliff-notes version, or jump over to www.GoodEyePhotography.com if you'd prefer to sift through hundreds of photos on your own. Enjoy!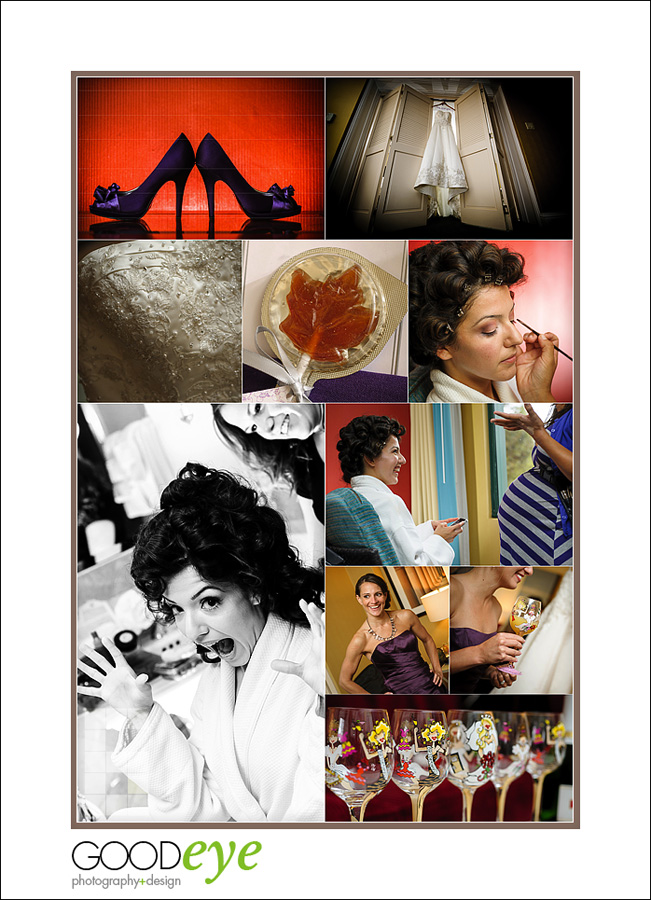 Come September, the big day had arrived. I met Lilly in her suite at the Crowne Plaza Cabana Hotel in Palo Alto where everyone was staying, and where the reception would be later in the evening. Lilly was cool and relaxed, and ready to make funny faces for the camera. The bridesmaids all had matching deep purple dresses that were simply killin' it. Check out the custom wine glasses Lilly made for each bridesmaid – just more evidence of the fun coming our way…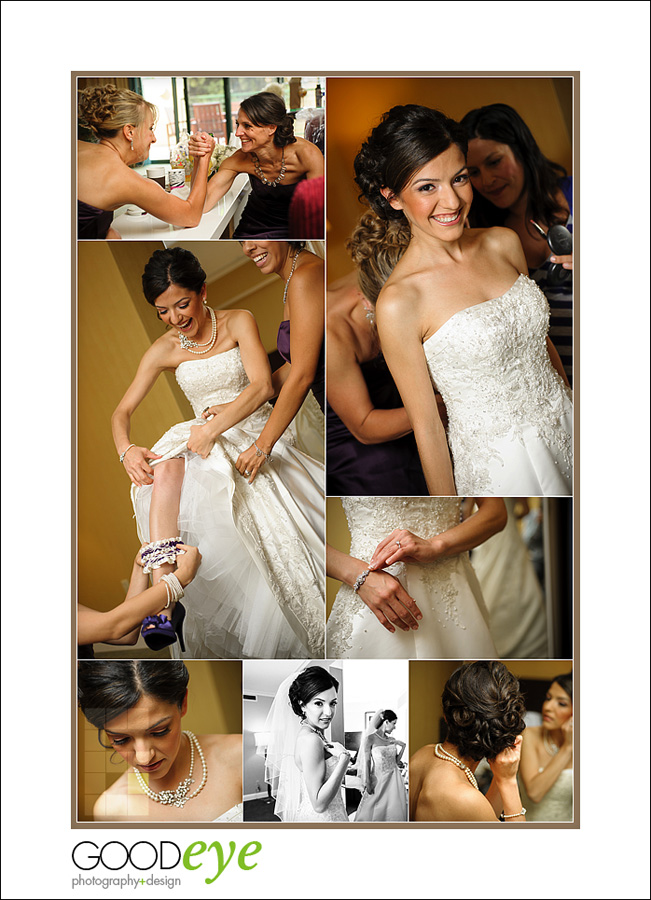 With 8 girls, one is bound to be into weightlifting, so of course there was a little arm-wrestling going on as the pack determined the alpha-female ranking. Doesn't Lilly look lovely in that dress? I love it. Hair looks awesome, and she looks so excited to get going!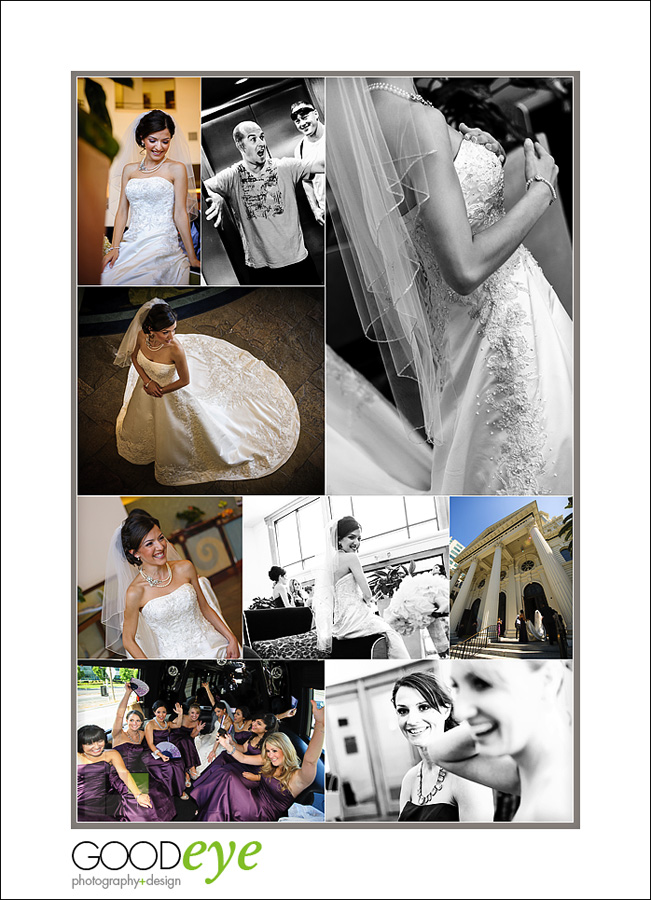 I catch Chris at the elevator, but he doesn't sneak a peek like a good boy. I get a few nice bridal portraits while we wait for the limo-bus to show up. Not shown: Lilly leaving her main bouquet in the lobby. 




Here we are at the ceremony in the beautiful St. Joseph's Cathedral in downtown San Jose. They had a full Catholic mass; this church can hold a ton of people! 


Taking communion.


Everyone holding hands was a nice touch. A quick kiss and the ceremony was over. We all got on the limo-bus and headed to Target. Yes, that Target. We needed some booze for the ride! We had 2-3 hours to kill before the reception started in Palo Alto, and we needed some juice to tide us over for the trip to Foothills Park for some Bridal Party formals. I had to follow the newly married couple into Target for a few candids. We lasted exactly 45 seconds before being politely asked to GTFO.


The party officially started once we all left Target and hopped back on the party bus. Chris popped open some champagne – successfully (and completely) hosing down our driver in the process. At least we weren't driving yet. I don't think he was too happy about it, but didn't let it show – good man. Lily and Chris cuddle up and show off some attitude for the camera.



We successfully made it to Foothills Park. While technically a part of Palo Alto, it's really up in the Los Altos foothills – almost up to the summit. Luckily I'd just been there a couple weeks before for an engagement session, so I knew where to go. Usually shooting this many people in a bridal party can get pretty stressful, but everyone was a ton of fun and receptive to pretty much anything I wanted to do. I love, love, love the bridesmaid shot above where they look like a girl-band. Tons of attitude in there. I also took a lot of individual photos of each bridesmaid with the bride which really brought out each of their personalities. Love it.


Oh man, the best groomsman/groom shot – one of Chris' friends is obviously a bodybuilding enthusiast. He turned to Chris and was link "I'm gonna have to touch your junk for this" before he picked Chris up and held him above his head. I was definitely not gonna miss that shot! We also have a jumping bride and groom shot that looks exactly like the one they did in their engagement session – too cute!


Another favorite groomsmen photo – I had them all arranged in a v-pattern, then I think Chris opened a jacket a little, which gave me an idea. So I had them all open their jackets, and named this pose "flock of geese." Has it been done before? Oh, I'm sure – but I've never seen it, and it evolved naturally for us on this day. And it's awesome. Next, my second shooter Sam Fontejon went out on the dock and hailed down a couple who were rowing in their rented boat, minding their own business. Before they knew it, we'd borrowed the boat for Lilly and Chris to have a little ride on. Miraculously neither of them got wet and we got some killer photos in the process. Thanks to the random couple who helped us out!!


Back on the bus and we're shifting into 4th gear and feelin' good. I love the top shot of Lilly lap-dancing on Chris. I don't know why, but the Star Wars light-saber scene on the tv behind them just bring it all together.


We're finally back to the Crowne Plaza Cabana Hotel in Palo Alto where the guests are enjoying cocktails and appetizers on the outdoor patio.


This DJ was just killin' it, getting everyone riled up and ready to party. He busted out costumes and props so the bridal party could make an epic entrance to the reception hall. 


I love getting candid photos of the guests.


Los Mejicos, a Grupo Folklorico dance group performed for everyone once we got settled. It was an amazing performance and gave the evening some cultural flair.


Chris loves the microphone, he's got no fear when it comes to public speaking. His brother and both dads gave some touching and humorous toasts.


First dances – how about that dipping kiss shot with the lovely purple background.


Money dance!




Some epic fun times dancing – yes that's the YMCA. Few DJs can pull this off successfully. What a night, congrats guys.
Planning a wedding at the Crowne Plaza Cabana Hotel in Palo Alto?
Bay Area Destination Wedding Photographer Chris Schmauch wants to shoot your big day! (831) 216-6210
If you haven't already, feel free to review our portfolio site, browse past weddings, check our romantic engagement sessions, follow our business on Facebook (like us while you're at it!), or read our awesome Yelp reviews.