I met both Kim and John for their Capitola engagement shoot only a few weeks before their wedding. This didn't leave much time for me to process all their photos in time for them to order some to use at their wedding. So I was amazed to see a faux movie poster (using one of their photos) on an easel displayed when I got there – something a graphic artist friend of theirs has put together. So cool! Below are what I consider the photos that highlight the day. Feel free to scroll down and peruse them (and my comments); or you can jump to www.GoodEyePhotography.com where you can order prints and view all 1,000+ photos!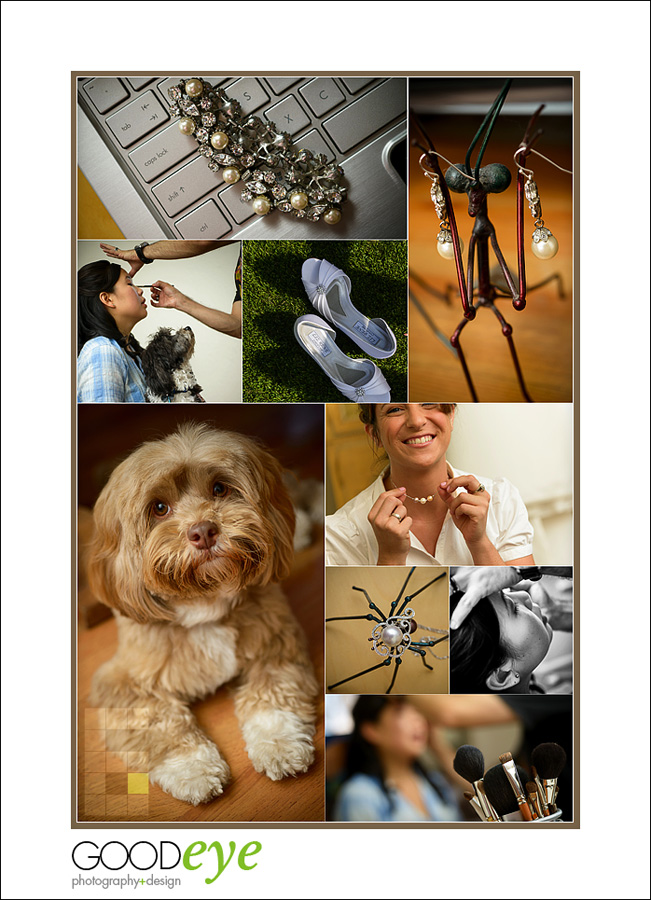 I met up with Kim at her house in Monterey the morning of September 29th, 2012. She's got two adorable puppies (quite photogenic, don't you agree?), and a fascination for bugs. Kim's got these really neat bug sculptures that I secretly used as props when shooting her wedding jewelry.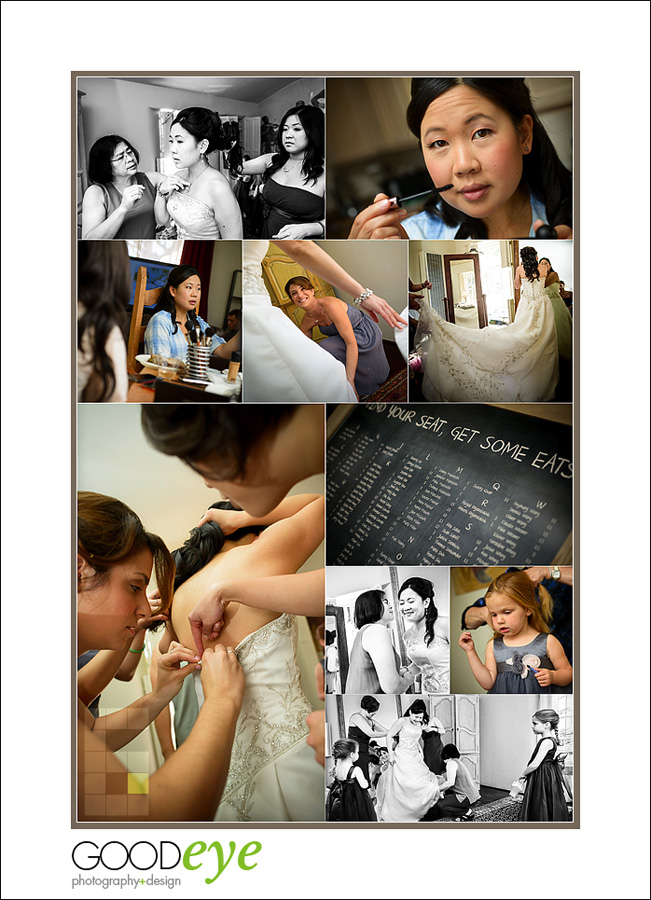 After hair and makeup were completed at her house, we all left for La Mirada Museum of Art. My second shooter Sam Fontejon had been hanging with the guys, so he met us there as well. Nervous excitement filled the bridal suite as the dress and veil came together in one, beautiful package.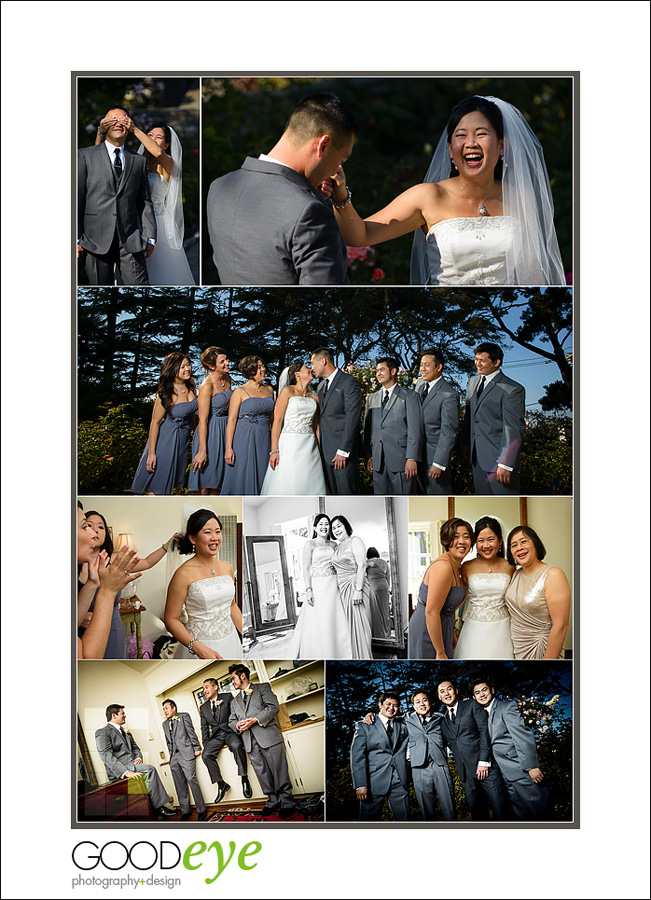 I staged a "First Look" for Kim and John in the little rose garden. I love doing these, because you can get both their expressions at the same time. If the ceremony is the first time they see each other, I have to swing my camera back and forth between them both (like a tennis match) and it's just not the same. After the first look we took the time to get some bridal party portraits done; this way we have less to do after the ceremony and can get back to the party quicker!


Aww, cute kids + cute puppies = well, damn cute photos. 


Jaw dropping gorgeous-ness going on here. Kim makes the dress look fantastic. The ceremony begins…





Really challenging lighting for the ceremony with the direct sunlight, but these photos make it hard to tell, luckily. There's the shy pup showing herself.


A few more bridal party portraits and some guest candids.


On to my favorites – the bride and groom formal portraits. I love walking around a new venue with a couple, exploring different environments and creative ways to light it. Thanks to my 2nd Sam for lugging around the lighting equipment!!


There's a really cute little pond next to the museum, within easy walking distance. But I can see how it would easily be missed if you didn't scout the location ahead of time.


One of the most amazing wedding cakes I've seen. Of course it's by The Buttery right here in Santa Cruz. Seems to defy gravity. Awesome.




Tea ceremony for the girls, whisky shots for the guys. Who had more fun?




John's insanely talented brother made magic on the piano – a special piece he'd prepared just for John and Kim. The crowd was stilled to silence as soon as he started playing, mesmerized by the musical notes his fingers effortlessly dance out.


2012 is the year of Gangnam style. I will always be able to look at dancing photos from this era and know when that song comes on. Fun!


I haven't had many "bridal exits" lately, but it's always a great moment to capture when it happens. In their case, the crowd made a tunnel of sorts and threw flower petals on the couple as they left the reception. Great ending to the evening, I hope you enjoyed the photos.
Planning a wedding at La Mirada Museum of Art in Monterey?
Bay Area Destination Wedding Photographer Chris Schmauch wants to shoot your big day! (831) 216-6210
If you haven't already, feel free to review our portfolio site, browse past weddings, check our romantic engagement sessions, follow our business on Facebook (like us while you're at it!), or read our awesome Yelp reviews.