I've seen some high-fives in my day, buit Nic and Lindsey make an art form out of it. They showed me how they do it at their Vasona Park engagement session, and of course had to follow up with a jumping high-five on their wedding day. Scroll down for more, or jump to www.GoodEyePhotography.com to browse all 1000+ photos.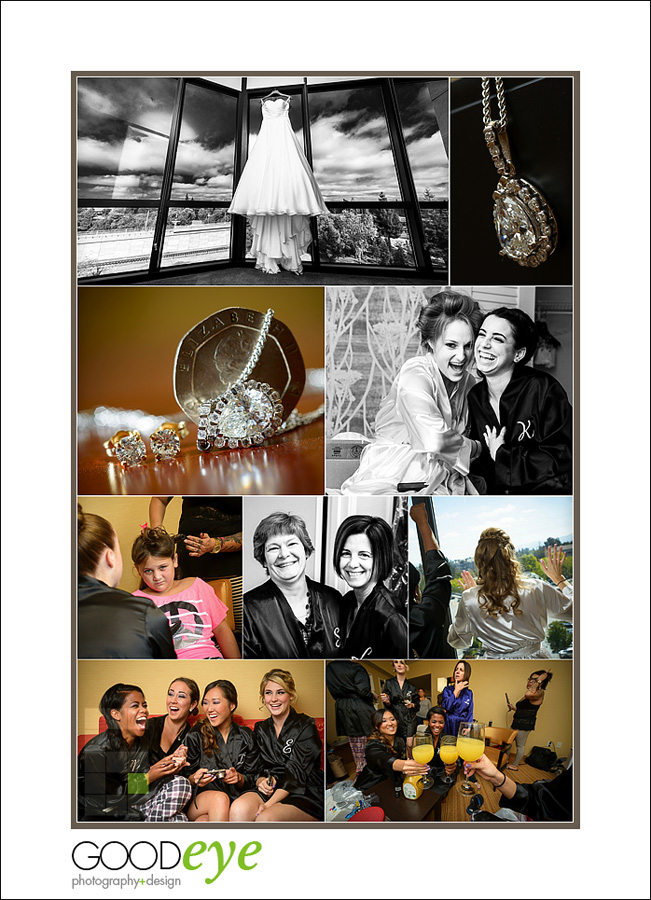 The wedding day started out with the getting ready stuff at the Courtyard Marriott in Campbell. Each bridesmaid got a custom-monogrammed silk robe as their gift – nice!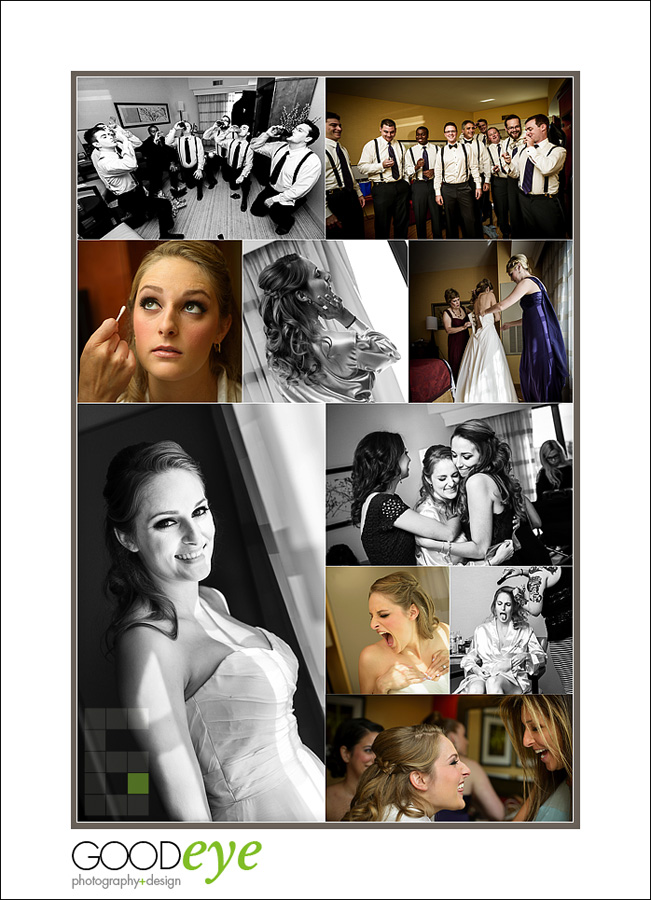 Hidden inside the groomsens' gift bags were some warm bottles of Natural Ice – so I was obliged to capture them all taking to one knee and pounding the awful alcoholic beverage! I think the bridesmaids were more than happy to stick to mimosas. Check out Lindsey's gorgeous hair – I think her funny faces add magnetic personality to her natural, stunning looks.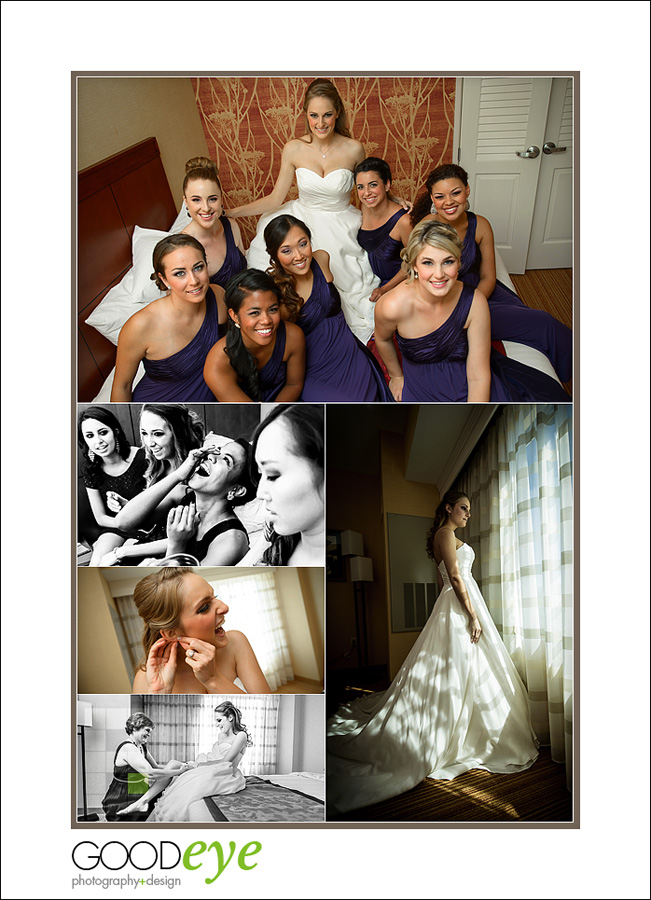 Don't cry bridesmaid! It just sets off a chain reaction and then the makeup ladies will be pissed…. also, a sweet moment with mom putting on the garter – shows how close these two are!


Check out the vintage Rolls from Elegant Journey. Isn't Lindsey's expression through the car's window adorable? She looks so excited! Also, I love the bottom black and white shot of the ring bearer. Such dramatic edge lighting.


All eyes on the bride as she walks down the aisle with her proud daddy… a slight disturbance near the altar… Nic runs up and takes his place at the last moment! I guess he didn't get the heads up about the ceremony starting! Good ice breaker for the beginning of the ceremony, and classic Lindsey-and-Nic fare.




There's that high five to seal the deal. Who needs a kiss anyways?


On to the formals at Cinnabar Hills Golf Club. This tree made for a great backdrop to the azure blue sky. This is a big bridal party, but tons of fun and open to my ideas.


What a great looking couple, here's some nicely-lit shots of the two of them in front of the Rolls Royce and The Tree. Also, getting funky with the bridesmaids!


Lindsey and Nic showing off their stuff on the fairway. Check out that jump! 


I asked some golfers that drove up in their cart if I could borrow a club, ball and tee. They were super nice and obliged for that money shot above.


Really neat room for the reception inside Cinnabar Hills – cool lighting and shape. Here's the opening toasts.


Time for the party to begin – I love candid shots. Check out those two toddlers dancing together. I almost died from cuteness overload.


Now this was a first – Sharkie (mascot for the San Jose Sharks pro hockey team) made a surprise entrance behind the bride and groom. Nic had planned it ahead of time (Sharkie is their buddy), and Lindsey was clearly surprised! Sharkie showed Nic some moves on the dance floor with his new wife, and really kicked off the mood of the evening.


Some really touching first dances with mom and dad, and Sharkie stuck around for the cake cutting. Lindsey isn't afraid to lick Nic's tasty frosting-covered face!


A successful garter and bouquet toss. One of the guests shows his ridiculously awesome flexibility on the dance floor – how does he get back up from that position? Crazy!


So that's what suspenders are for! So much fun dancing. Check out the beautiful rings I put in the bouquet. Also the big artboard that the guests signed as a keepsake for the couple. Fantastic, fun wedding!
Getting married in San Jose, California?
Bay Area Destination Wedding Photographer Chris Schmauch wants to shoot your big day! (831) 216-6210
If you haven't already, feel free to review our portfolio site, browse past weddings, check our romantic engagement sessions, follow our business on Facebook (like us while you're at it!), or read our awesome Yelp reviews.