One of the great things about the Bay Area is our temperate weather; there are very few days I have to cancel, and can shoot steadily throughout the year. And so it was that I met up with Stevie and Angelo on this fine mid-December day for their engagement session in the forests around Henry Cowell. Now, this isn't the most photogenic time of year for this area, the leaves have fallen, the fields are brown and yucky, and there are no flowers. But looking at the photos, you wouldn't know any compromises had been made. I always assure people that it is them who are the superstars of my photos – and the environment almost always plays second fiddle. But I think most people don't feel comfortable in the spotlight, and would rather melt into the background – and hope that that background is so pretty you won't notice little ol' them in the corner. That's how people tend to feel going into one of my shoots, but by the end they are invigorated, impressed with their new modeling abilities, and confident that the photos will be great, even though they haven't seen them yet.
Angelo brought along his 8yo daughter Anna, plus their adorable dog "Chewy" – who I think should be in commercials with those adorable ears, soulful eyes, and cute liddow snaggltoof. Oh man, I'm resorting to baby talk, stop me now… OK, so in a nutshell we got some cute family photos along with a romantic engagement shoot, which is no easy feat. I'm really happy with the results, and am sharing my favorites with you below. Enjoy!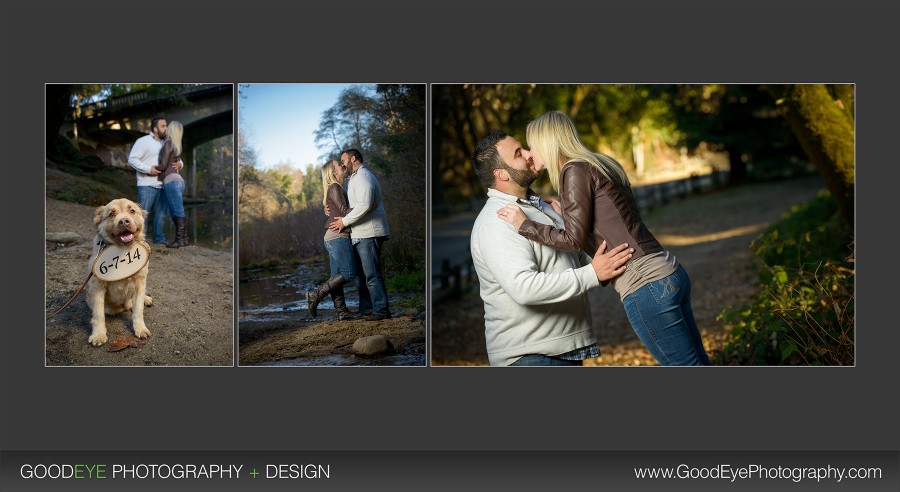 Looking for some creative engagement photos in the forest near Felton, California? San Francisco / Bay Area Wedding and Engagement Photographer Chris Schmauch makes you both look simply amazing! Call (831) 216-6210 or fill out this nifty contact form (for serious inquiries only). 
Recent "Engagement" Posts: