I know head shots are not something most people look forward to. That's why I make the process super-quick, easy and fun. If I can't get a great shot of you in the first 3 minutes of shooting, then I've failed miserably. Howard's main concern was not having a good place to shoot – his office is in an industrial part of Santa Cruz, and from his perspective there was no place that had a "good background." I assured him over our back and forth emails that there is always a creative solution, no matter what, and so he trusted me. Being an "on-location" photographer (as opposed to working primarily inside a studio), I'm used to being a creative problem solver. I don't spend a ton of time scouting out locations or stressing about the weather being perfect or any of that nonsense. Being able to do what I do over and over again, no matter the circumstances, has given me confidence in my mantra that there's "always  a way" – and you know what? It's this kind of Johnny-on-the-spot creative problem-solving that makes me a better photographer. My gears have to always be turning, I can't get lazy and fall back to doing the same ol' thing every time – like I would if I had a "standard setup" in a "standard studio."
Anyways, back to Howard and today's shoot. Going into it, I knew it might rain, so I was pretty much assuming we'd have to do it inside somewhere. Most offices have a conference room or some space that I can convert into a mini studio. Basically I need a few square feet of plain wall space to work with. But when I showed up and introduced myself, I could tell right away that the indoor thing was not going to happen – at least not without a serious effort of moving stuff around. So I did a quick walk around of the grounds. I found a cool spot outside the building next door, and so I promptly set up my lighting equipment – since it was overcast I had one gridded speed light to spotlight the wall of the building, and my primary soft box about 30′ away, which is where I'd place my subject. Then a few droplets started falling…
I ran-trotted back to the office and got Howard, who was wearing a nice suit-jacket and tie. I tell him where I've set up, and we start walking there. The drops start fulling in quicker succession. Gulp. I'm thinking to myself, I can clone out the rain spots on him… We get there, I hurriedly snap off a few shots, and it starts raining harder. Dang it. Plan B – which I'm quickly working out as we whisk back to the office. He heads indoors, I go inside the roll-up garage area. Then inspiration strikes… I go get Howard and tell him I want him to stand just inside of the garage, facing the dark interior. He looks at me like I'm crazy – "You mean that office building and those cars and parking lot will make a good background?" he remarks. Well, no, they wouldn't, but I'd drop my aperture down to 3.2, and step back far enough from him while shooting so I could get that nice background compression out of my trusty 70-200mm lens. Setting the lights and camera up to add just enough drama to the portrait, and we've got a portrait any CEO would be happy with. You'd never know we were shooting in a dirty garage, that it was raining outside, and that the background was about as terrible as any could be. Cool, right?
If you like what you see here, and are interested in booking a quick headshot / portrait session with me – I recommend you check my business portrait pricing page and my availability page.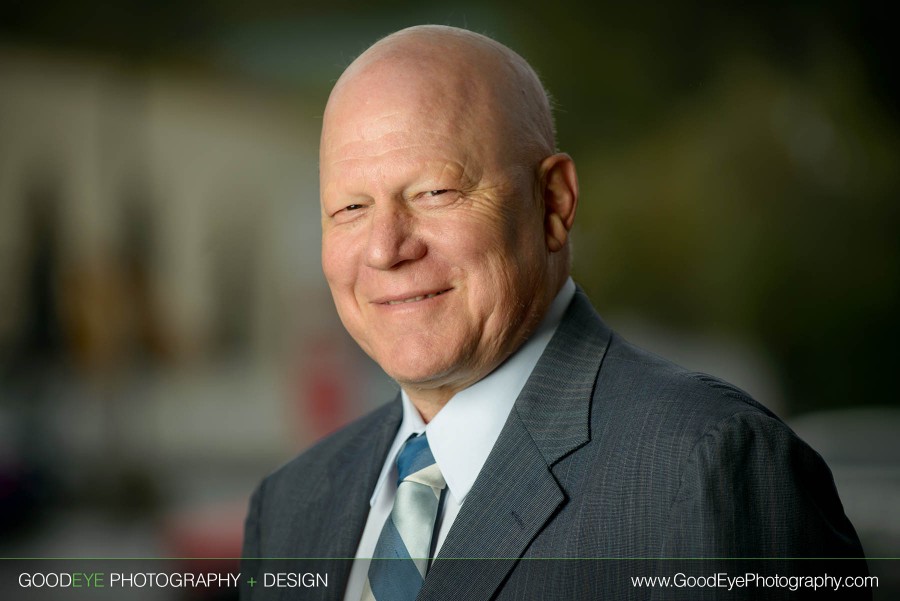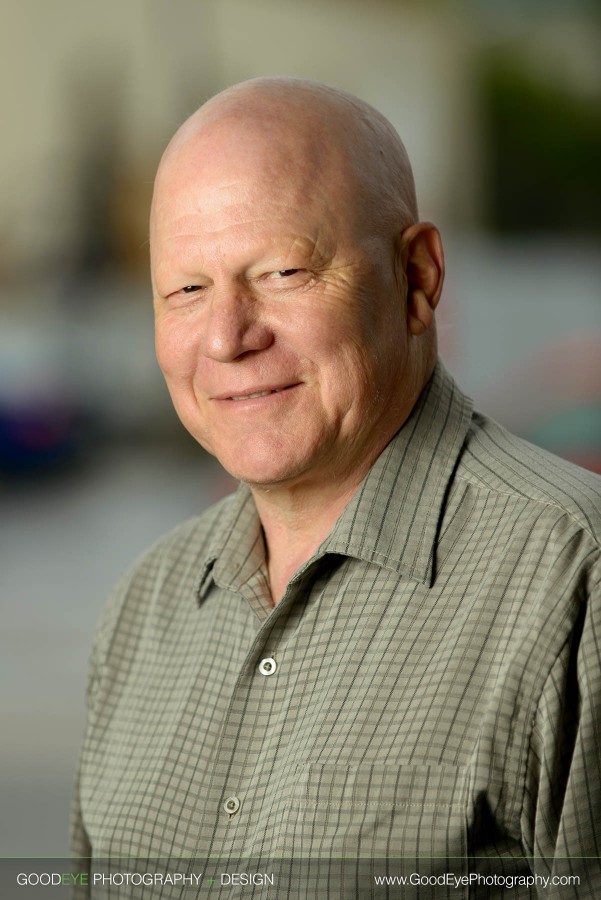 Looking for business portrait photographer in Santa Cruz? San Francisco / Bay Area Portrait Photographer Chris Schmauch captures great, natural portraits of people – and is super quick, so there's minimal interruption to your workflow! Call (831) 216-6210 or fill out this nifty contact form (for serious inquiries only). 
Recent "Business Portrait" Posts: