About This Post

It seems like I've been shooting a lot of engagements up in San Francisco lately – of course there's a good reason why; there's just so much envrionmental variety and backdrop options to even the most creatively challenged photographer. Luckily I know how to take advantage of all the city has to offer, and when you've got a fun couple like Nicole and Tommy to work with, the City simply becomes a romantic backdrop for their natural chemistry. We started the session at Coit Tower where it was of course quite breezy, but not so much that we couldn't find some great places to shoot. I have a habit of coming up with crazy ideas, and basically keep pushing until the couple says "no." Tommy and Nicole were pretty much down to try anything, so I had a great time exploring fun angles and perspectives on things.

After spending 40 minutes or so at Coit, we headed down to the Embarcadero area by the Ferry Building. The almost-setting sun gave us some great light across the green park next to Embarcadero center. From there we pretty much walked around and explored little nooks and crannies around the Ferry Building, various piers, and the cityscape and street scenes. A little after sunset we headed to Harrison St. for the Bay Bridge backdrop photos my clients love to get. Each time I do it is a different look and experience.

Enjoy my favorite photos below – presented as I'd design a square album with open spreads.

Booking Info

Interested in scheduling a GoodEye engagement shoot? Check out my engagement packages and availability before you contact me.  

About Chris (GoodEye)

If you don't think you have what it takes to look like one of the couples on this page – you're wrong! With a little coaching and a couple shots of tequila (I jest…), you can get results just like all the other "normal" non-model people you see here. I've been shooting engaged couples for quite a few years, and I absolutely love it. It's a challenge that I embrace – and let's be honest, you two will be way more cooperative than a couple of cranky toddlers – right?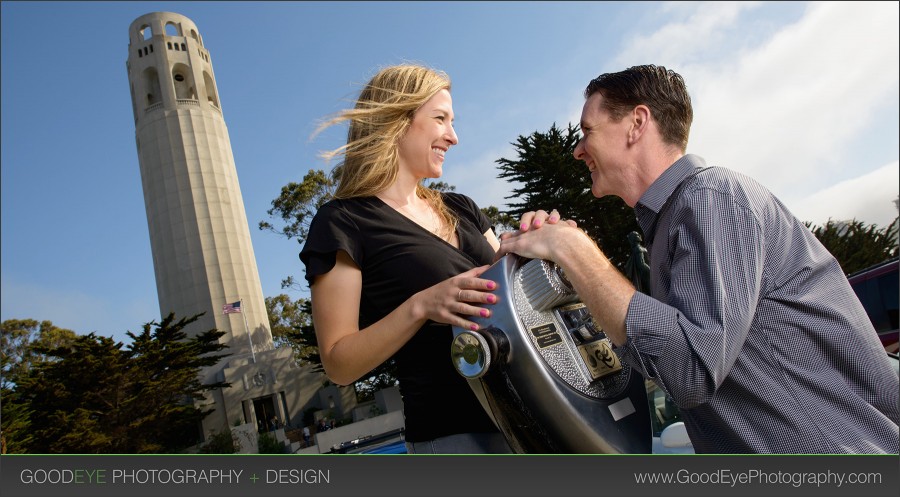 Looking for some creative engagement photos in the San Francisco area? Bay Area Wedding and Engagement Photographer Chris Schmauch makes you both look simply amazing! Call (831) 216-6210 or fill out this nifty contact form (for serious inquiries only). 
Recent "Engagement" Posts: