About This Post

This was my second family portrait session in as many years with Darcey, Drew, and their adorable blondie offspring. They loved their photos at Lighthouse Field and Dog Beach so much from the first shoot, they decided to go to the same location again this year. These guys have a lot of fun with each other, and are very creative, easygoing and lighthearted. I mean, who picks up seaweed and starts a vigorous game of jump rope with their kids? How many young siblings can wrap their arms around each other and smile at the camera without it quickly turning into a fight? Not many, I can tell you that… Photographing this family is not work – it's pure fun and joy.

Below are some of my favorite photos from the family photography session, laid out album spread-style. Enjoy!

Booking Info

Interested in scheduling a GoodEye family portrait shoot? Check out my family portrait packages and availability before you contact me.  

About Chris (GoodEye)

Chris Schmauch thinks your family rocks, and would love to capture some truly precious memories of you and your little ones (or big ones!). From families with their first newborn, to multigenerational huge get-togethers, Chris is up to the task. Based in Santa Cruz, but traveling all over the Bay Area and beyond, consider taking advantage of Chris' talent to capture the memories before it's too late (Hint: it's never too late).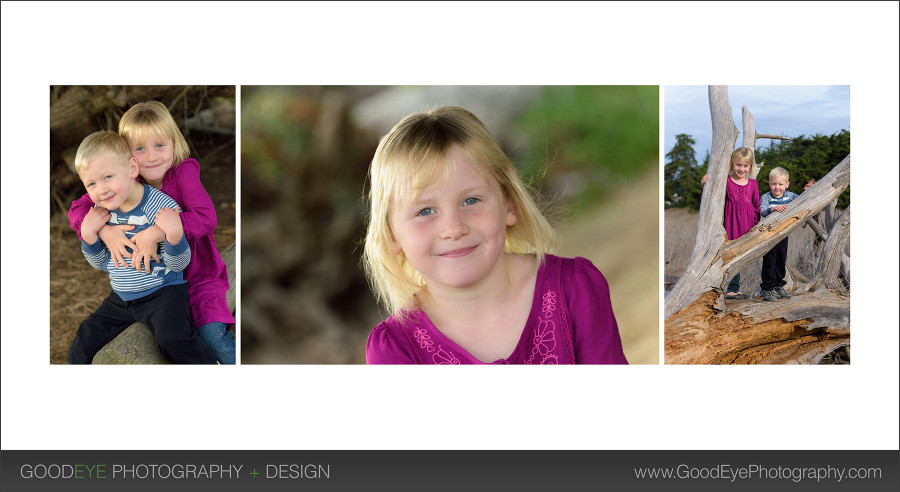 Looking for a creative family portrait photographer with mad little-kid skills? San Francisco / Bay Area Family Portrait Photographer Chris Schmauch captures sweet family moments like no other! Call (831) 216-6210 or fill out this nifty contact form (for serious inquiries only). 
Recent "Family Portrait" Posts: