About This Post

It's not too often I get the chance to photograph a man getting down on bended knee and proposing to his girlfriend. Perhaps it's because us guys usually aren't as sentimental, perhaps we're not the best planners – but every once in a while I'll get a guy that really wants this moment captured, and I am always honored to help in the planning and preparations. Joe relied on my familiarity with Panther Beach and my knowledge of sun direction, tides and lighting to make sure I would be able to get the shots he envisioned. There's always uncontrolled variables – like weather, other people at the beach, and the fact that we had to conceal the plans from Lacie. A few diagrammed satellite screenshots and a dozen emails later, we'd set the stage for the proposal. I got a last-minute text from Joe with their descriptions, which is good because there were a lot of couples at the beach and I didn't want to stalk the wrong people!

Luckily I spotted them early, and was able to hang back about 30′ and pretend to take photos of waves while surreptitiously observing things in my periphery. Honestly, the longer they sat there, arms around each other and looking at the ocean while chatting, the more my own anticipation for the moment grew. I can only imagine what Joe was experiencing, trying to figure out when the moment was right. Luckily, he waited for people in the background to walk away before he made the grand gesture – and I was ready. I swung my camera around towards them, no longer worrying about Lacie noticing me, as 100% of her attention was focused on Joe, down on one knee, asking for her hand in marriage. Lacie's face was priceless – sheer joy and OHMYGODOHMYGOD disbelief. About ten feet behind me, three ladies noticed what was happening – "Oh my gosh you guys I think he's proposing OHMYGOD I'm gonna cry look he's down on his knee I can't believe this is happening this is so awesome…" I had a perma-grin on my face as I snapped away, knowing I was getting exactly what we'd intended. After a few minutes I walked up to the newly engaged couple, introduced myself with congratulations, and proceeded to guide them through an impromptu engagement shoot around the beach, ending with a beautiful sunset.

Enjoy my favorite photos below – and please feel free to leave a comment or share!

Booking Info

Interested in scheduling a GoodEye engagement shoot? Check out my engagement packages and availability before you contact me.  

About Chris (GoodEye)

If you don't think you have what it takes to look like one of the couples on this page – you're wrong! With a little coaching and a couple shots of tequila (I jest…), you can get results just like all the other "normal" non-model people you see here. I've been shooting engaged couples for quite a few years, and I absolutely love it. It's a challenge that I embrace – and let's be honest, you two will be way more cooperative than a couple of cranky toddlers – right?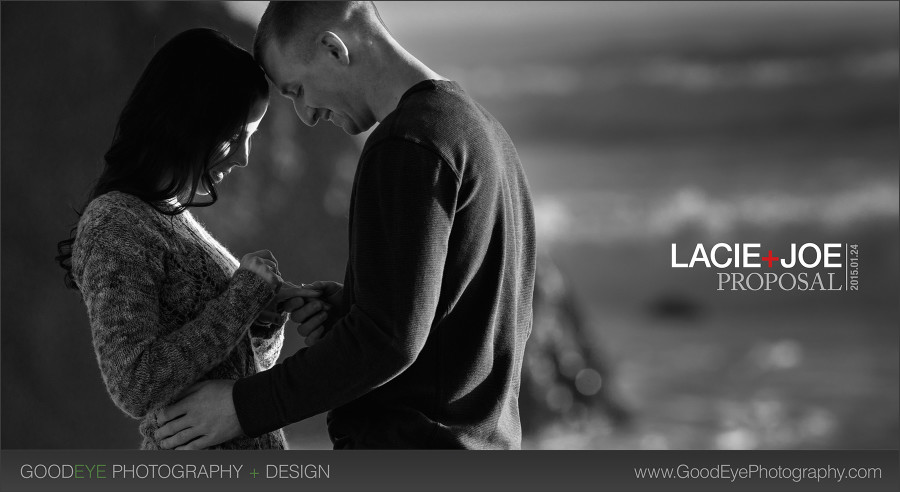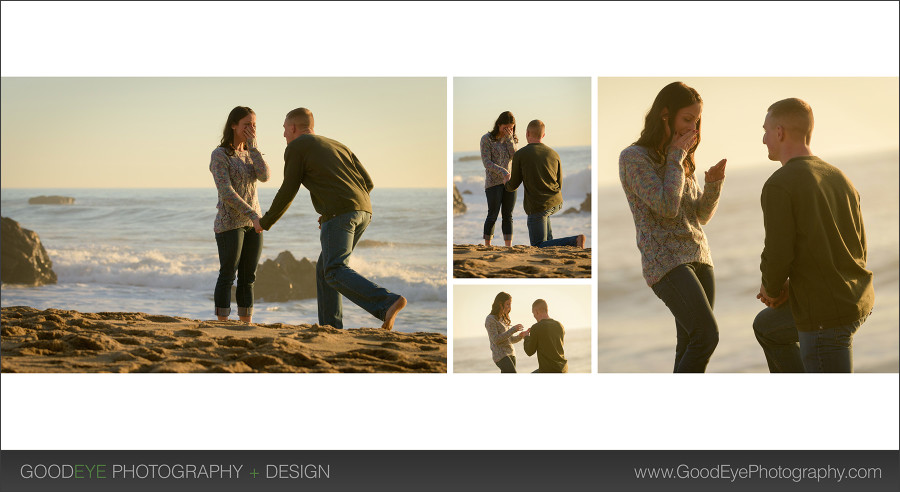 Looking for some creative proposal / engagement photos in Santa Cruz? Bay Area Wedding and Engagement Photographer Chris Schmauch makes you both look simply amazing! Call (831) 216-6210 or fill out this nifty contact form (for serious inquiries only). 
Recent "Engagement" Posts: