About This Post

Panther Beach in Santa Cruz is an awesome location for engagement photos. Yes, it can be windy. Yes, the waves can be enormous and inherently unpredictable – and yes, it's quite difficult to get down to. But once you're there, it's pretty obvious why so many couples want to shoot here. Its unique red cliff walls, large natural bridge splitting the north and south sides, and curving bay with crystal blue water are breathtaking to behold. Sara and Scott met me there for their engagement, and we wasted no time getting them absolutely soaked with a rogue wave. Luckily they had a great attitude, and really helped me get some great portraits of the two of them at the beach.

After a bit, we hiked back up to our cars and made our way through the curvy backroads to Quail Hollow in Felton. We arrived as the sun was setting, so we started out with some really beautiful portraits with Sara, Scott and their infant sun sitting on a wood log, backlit by the sun, and just loving on each other. The sun was going quickly and the clouds were setting in, so we quickly found a few more nearby locations before calling it a day.

Enjoy my favorite photos below – and please feel free to leave a comment or share!

Booking Info

Interested in scheduling a GoodEye engagement shoot? Check out my engagement packages and availability before you contact me.  

About Chris (GoodEye)

If you don't think you have what it takes to look like one of the couples on this page – you're wrong! With a little coaching and a couple shots of tequila (I jest…), you can get results just like all the other "normal" non-model people you see here. I've been shooting engaged couples for quite a few years, and I absolutely love it. It's a challenge that I embrace – and let's be honest, you two will be way more cooperative than a couple of cranky toddlers – right?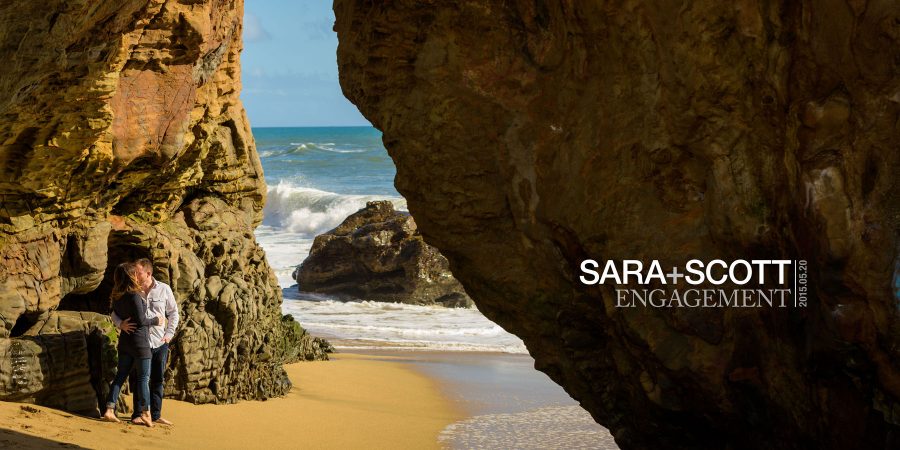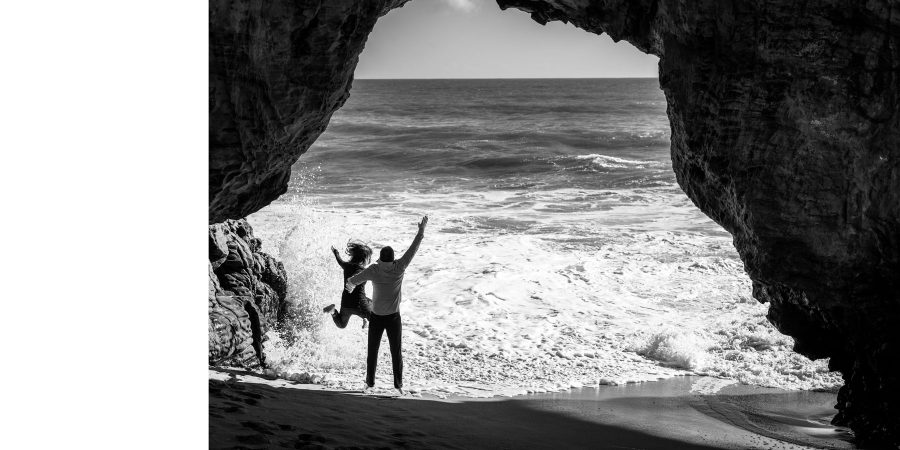 Jump together! Wait, no, RUN!!! Yes, this is where the initial soaking happened. First five minutes. Good thing they are totally chill about it. I think Sara froze soon after…


Gott love the views here, and check out that sexy shot of Scott picking up his beautiful fiancee!


Love this candid moment, they're like "Holy shit we're cold!!"


Cold or not, we're turning the heat up, capturing some intimate closeness between these two lovebirds.


Money shot – romantic kiss on the beach with translucent green wave crashing in the background? Yeah, that would make a great canvas in the bedroom.


Yes, I do actually take photos with the couple looking at me.


Showcasing the unique, beautiful, photogenic red rock on the cliff walls. No other beach around here looks like this.


Family photos! Look at that little guy, so cute! I just want to squeeze those cheeks! Amazing family.


Love the dip shot, the setting sun creating some beautiful rim light and turning the grass gold.


Sitting on the bench, laughing at the parental units off-camera.


More intimate moments captured. Not shown: Sara is seriously frozen now. That's a wrap!
Looking for some creative engagement photos at Panther Beach or Quail Hollow? Bay Area Wedding and Engagement Photographer Chris Schmauch makes you both look simply amazing! Call (831) 216-6210 or fill out this nifty contact form (for serious inquiries only). 
Recent "Engagement" Posts: