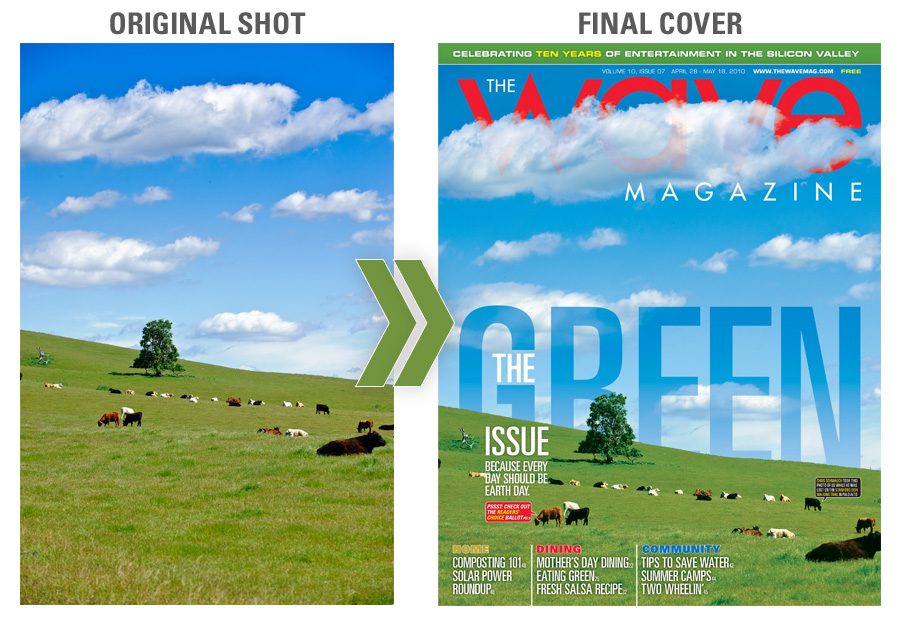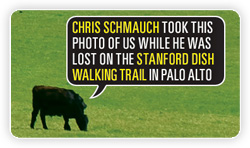 People keep asking me "Did you really take that photo," or, "Did you photoshop that picture together?" – so to put the questions to rest I'm writing this here blog post. As you can plainly see in the top left photo, the clouds, grass, cows and lone tree are all part of the original landscape. Of course the magazine cover has some subtle Photoshoppin' going on – I'm particularly proud of the cloud extraction over the logo, it worked out exactly as I'd envisioned it. And the cover even has a couple of talking cows – how cool is that? Here's a detail shot of the black talking cow on the right…
So as the cow plainly says, I took the above photo while walking along the Stanford Dish trail (I dramatized the lost part, but it could've happened!). I was thinking of green cover ideas, and since we'd just had all that rain, I was envisioning those hills off 280 where that big satellite dish is, but I wasn't sure where I could get a good vantage point for them. A lot of the best places are private property, and I was afraid I'd have to go trespassing.
I pulled off at Alpine Rd. and parked at Webb Ranch, mostly because I'd done some photography with the owner Gary Webb a while back, and didn't think he'd mind. I walked across the street and found myself on a bike trail that eventually led to a road that led to the entrance to the Stanford Dish Trail. There were big signs saying it isn't a public park and to stay on the trail, etc. etc. – I saw some other people walking on it so figured as long as I didn't feed the squirrels and chase the cows I wouldn't have any guards tackling me.
I was walking in wool pants and long-sleeved shirt, donning my Nikon D3 with 70-200/2.8 lens on my Spider Holster (see my review here), and my Nikon D700 with 17-35/2.8 lens on my BlackRapid RS-5 strap over my shoulder, and did I mention that it's all uphill to the dish? And that it was hot? And that I brought no water? I took it easy, and shot whatever looked interesting along the way. The weather was gorgeous, the clouds were all poofy and dramatically set in the cerulean blue sky, the fields were expansive and greeeen, and the cows, well… the cows were all laying around chewing cud, as cows will do. The money shot (above) was captured about halfway to the top with my D3/70-200 combo, and I was pretty sure it was gonna be a winner when I saw the composition. But I hiked all the way up to the dish because I'm not as lazy as I'd like to think, and I have to say it's quite a nice little trail. I'll have to go back again (with shorts) and do the whole loop.
There's not much else to say, the photo was strong and I wanted to keep the cover clean and un-cluttered. My solution to avoiding a big Reader's Choice Ballot snipe was to simply have another talking cow bubble. It was really the only design solution to be had, if you think about it.
Check out this issue of The Wave Magazine – it's on the streets now, or you can view the interactive Flash version here.
Thanks for reading, see you next time.