I'm so looking forward to Justin and Erin's wedding later on this year. They're going with a Great Gatsby / 1920s theme for their wedding, so I'm definitely gonna have to sport a bowler hat to get in with the spirit of things. The engagement shoot took place up at their friend's house in Bonny Doon (Santa Cruz mountains), as they wanted a woodsy setting to work with. Since we were in the woods, it wasn't a problem to start at around 1pm – the sun was high, but filtered through the tall redwoods on the property.  Justin and Erin we're totally easy to work with, and didn't mind rolling with my goofy ideas. My favorite was how we artificially lit the antique lamp in the first photo below – instead of busting out a long extension cord to the house, I used a "justin clamp" to attach a gridded nikon speedlight to the lamp's pole, remotely firing directly up into the lampshade to give the illusion the lamp itself was casting light. A quick photoshop job to get rid of the speedlight in the pics, and the illusion is complete!
There's 112 photos in all to check out at www.GoodEyePhotography.com, or browse through my favorites below… leave a comment if you dare!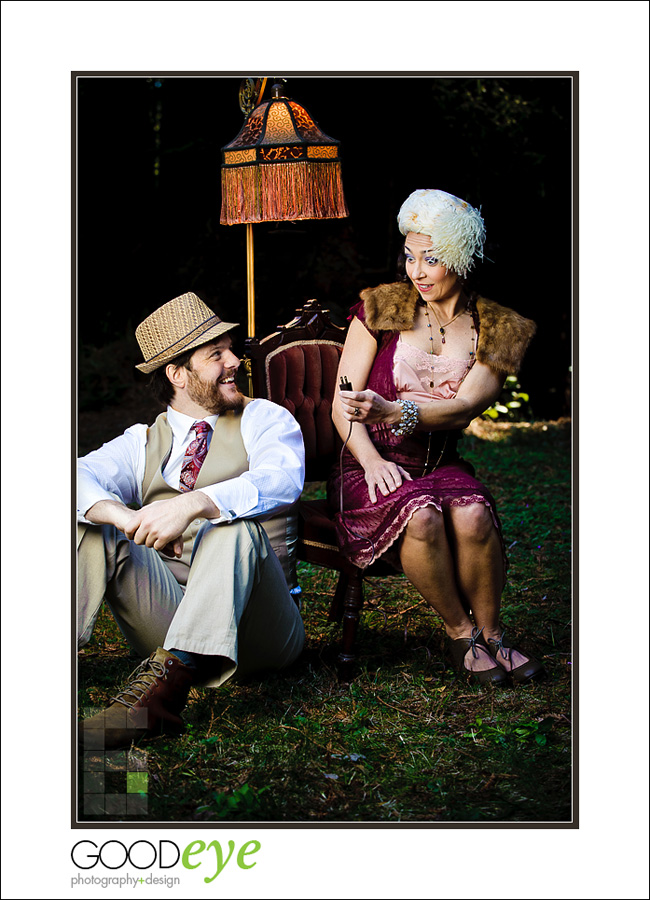 Santa Cruz wedding photographer Chris Schmauch loves themed weddings. Book him today! (831) 216-6210
If you haven't already, feel free to review our portfolio site, browse past weddings, check our romantic engagement sessions, follow our business on Facebook (like us while you're at it!), or read our awesome Yelp reviews.