I was hired to shoot the 2012 Awards Ceremony at National Hispanic University in San Jose, and since I was there, we took advantage of the time to get some nice headshots of some of the faculty that showed up to the event early (ha! that'll teach ya!!). Even though they weren't expecting to have their photos taken, they were dressed up for the event and after a little coaxing, I was able to get some nice, quick portraits of them. My rule for headshots – your best expressions are going to happen in the first 10 to 15 seconds. If you're not prepared for that *real* smile (or if you're a total bore to be around), you're going to fail – or at least not get the best expression that person is capable of presenting. Of course I have a few tricks up my sleeve (no, I'm not referring to the tequila in my camera bag), but interacting with your subject is paramount. Also, being at ease yourself will project good vibes to your subject, helping set them at ease.
Each of the portraits in the image below were taken in about 20 seconds per person. Not bad eh? Oh, and the background is a wall in the library; I almost never need to bring backdrops to get a traditional portrait look when I'm on-location. More on that in another post, I think.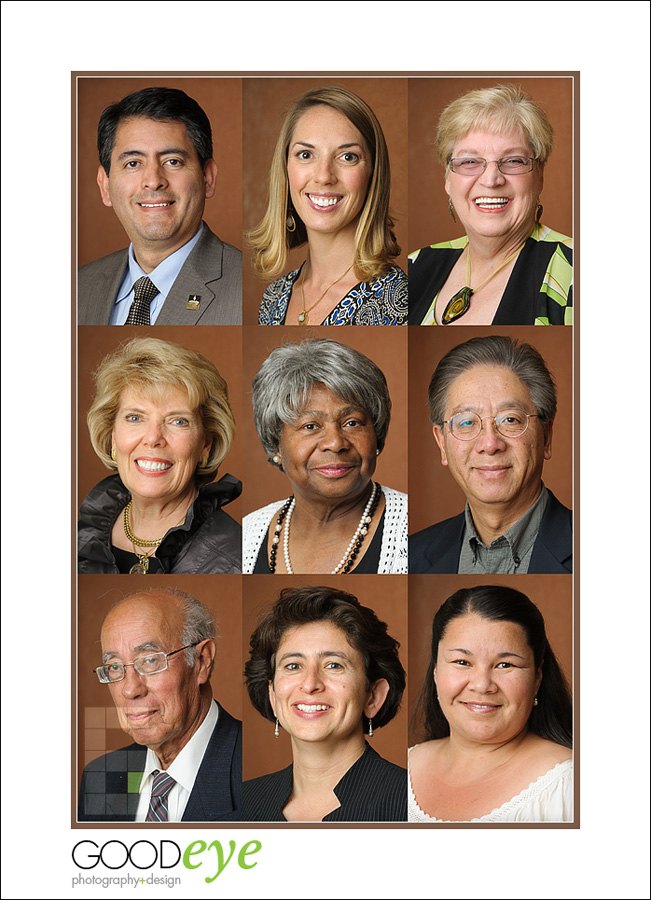 Looking for a business portrait photographer in San Jose?
Bay Area Portrait Photographer Chris Schmauch makes sure you look your best!
Call (831) 216-6210 for serious inquiries only.
If you haven't already, feel free to review our portfolio site, browse past portrait sessions, follow our business on Facebook (like us while you're at it!), or read our awesome Yelp reviews.