About This Post

These guys used to live in this San Francisco neighborhood, so we explored all around – the Embarcadero park, ferry building, piers, random buildings and structures. There's so much to see in the city; the textures and structures and different qualities of light are a photographer's dream. They really wanted a great night shot of the two of them with the Bay Bridge in the background all lit up. When I'd arrived earlier in the day, I'd driven down Harrison St. and took note of the fabulous oblique view of the bridge from that location. It was a bit of a walk at the end of the session, but well worth it as you'll see below.

Please feel free to comment at the bottom, I'd love to hear from you.

Booking Info

Interested in scheduling a GoodEye engagement shoot? Check out my engagement packages and availability before you contact me.  

About Chris (GoodEye)

If you don't think you have what it takes to look like one of the couples on this page – you're wrong! With a little coaching and a couple shots of tequila (I jest…), you can get results just like all the other "normal" non-model people you see here. I've been shooting engaged couples for quite a few years, and I absolutely love it. It's a challenge that I embrace – and let's be honest, you two will be way more cooperative than a couple of cranky toddlers – right?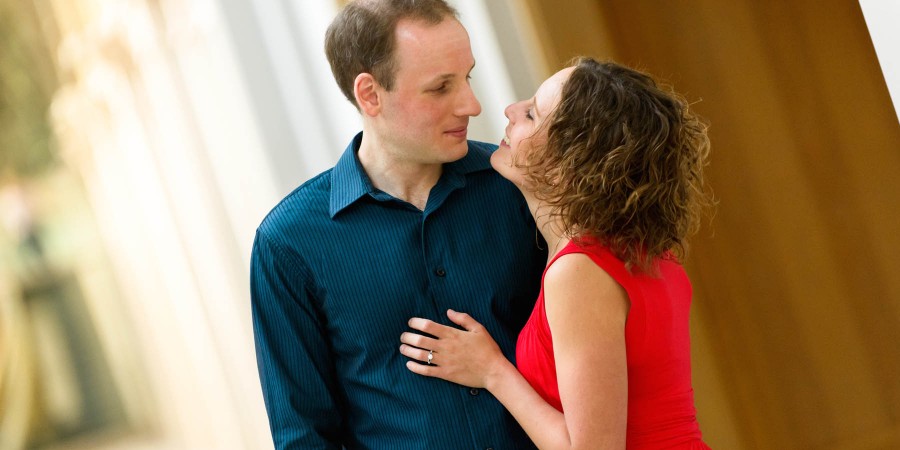 Looking for some creative engagement photos in the city of San Francisco? Bay Area Wedding and Engagement Photographer Chris Schmauch makes you both look simply amazing! Call (831) 216-6210 or fill out this nifty contact form (for serious inquiries only). 
Recent "Engagement" Posts: