About This Post

Christy, Scott and their two adorable girls met me at Capitola beach this Friday morning – the fog was still relatively heavy, so no sun – but that didn't lessen the fun! We started with a few full-family portraits under the Capitola wharf – it's such a photogenic location. I got as many "posed" shots as the girls would give me before the draw of the open beach called to them… which just means I switch to candid-mode and capture them having a great time, exploring the beach that's new to them. Thanks so much for choosing GoodEye, here's a few of my favorite photos from the family photo shoot, laid out flush-mount album-style.

Booking Info

Interested in scheduling a GoodEye family portrait or maternity shoot? Check out my family portrait packages and availability before you contact me.  

About Chris (GoodEye)

Chris Schmauch thinks every business person deserves to have an excellent, professional portrait. Your online photo (think: LinkedIn) is increasingly the "first impression" – and we all know how important that is. A GoodEye portrait is sure to stand out among the sea of crappy selfies or point and shoot photos! Based in Santa Cruz, but traveling all over the Bay Area and beyond, consider taking advantage of Chris' talent to capture great photos of you and your staff.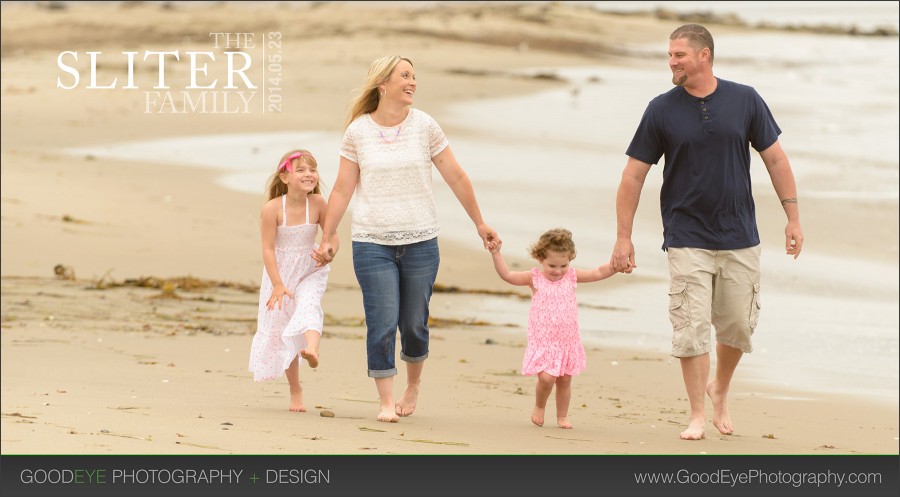 Looking for a creative family portrait photographer with mad little-kid skills? San Francisco / Bay Area Family Portrait Photographer Chris Schmauch captures sweet family moments like no other! Call (831) 216-6210 or fill out this nifty contact form (for serious inquiries only). 
Recent "Family Portrait" Posts: