About This Post

Since I booked Rachel and Jonathan's wedding over the phone, their engagement session was the first time I got to see them. We'd had to reschedule a couple times due to weather – and even though it still ended up being pretty breezy, we forged ahead anyways and just worked with it. This is the first engagement I've shot in quite a while using 100% available light (except the very last Bay Bridge shot); I usually haul around lighting equipment and previsualize all my shots accordingly. So, I felt a little "light" going with only my two cameras. But you know what? It was refreshing, and great practice – I'm so used to making the light happen where I want it, that doing it this way brought me back to my roots – seeing what's already there, and capturing it in a unique way. Plus, my back thanked me and we could move from location to location much quicker, netting more photos as a result.

Rachel and Jonathan are really sweet and considerate – and truly genuine individuals. They made sure I was fed before the shoot, and were really curious about the ins and outs of what the shoot would entail. They were excellent subjects and easy to direct – plus they had a natural chemistry that I only had to tweak here and there for composition's sake. Below are my favorite photos from the session, please comment below if you like what you see.

Booking Info

Interested in scheduling a GoodEye engagement shoot? Check out my engagement packages and availability before you contact me.  

About Chris (GoodEye)

If you don't think you have what it takes to look like one of the couples on this page – you're wrong! With a little coaching and a couple shots of tequila (I jest…), you can get results just like all the other "normal" non-model people you see here. I've been shooting engaged couples for quite a few years, and I absolutely love it. It's a challenge that I embrace – and let's be honest, you two will be way more cooperative than a couple of cranky toddlers – right?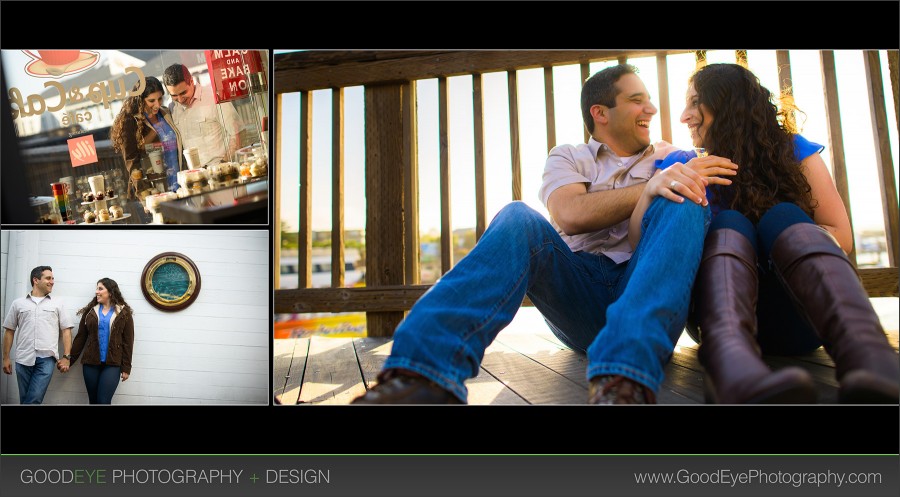 Looking for some creative engagement photos in the San Francisco area? Bay Area Wedding and Engagement Photographer Chris Schmauch makes you both look simply amazing! Call (831) 216-6210 or fill out this nifty contact form (for serious inquiries only). 
Recent "Engagement" Posts: