About This Post

Alright guys with girlfriends, Brian has officially raised the bar for all you thinking of popping the question to your girl… He surreptitiously hired me (the photographer) and a local guitarist (Michael Gaither) to help make his proposal memorable and amazingly romantic.

The setting was Davenport beach on a really overcast, but not-too-cold Thursday late afternoon. I met Mike, the guitarist, before the couple made their way down to the beach. Once they arrived and saw how crowded it was, not to mention how high-tide kinda ruined the idea of doing it on the north side of the beach, as planned, they started walking down to the south side of the beach. Brian told us they were going to enjoy some wine first, so we had time to get in position without attracting notice.

I hung out behind the couple against a cliff wall, pretending to randomly take photos of the solo crazy surfer guy, and Mike played music to himself about 30 feet away. After a glass of wine, Brian made some kind of bet with Julianna that he could get "that guitar player over there" to play some of their favorite tunes for them… well of course that was a rigged bet, but she was surprised and delighted when Brian came back with Michael in tow, and they settled into enjoying some tunes. All the while I'm taking discreet photos of the whole process, not being noticed at all.

Then Brian gets Julianna off the picnic blanket and they start to slow dance; at this time the two beachgoer women near me look at me like, "is he going to…" and I give them a little nod and smile and they EEEEK!! as quiet as they can, anxious to witness this special moment. Soon enough, Brian transitions from slow dance to getting down on one knee. He didn't seem nervous at all, speaking to her for some time while getting the ring out and putting it on – giving me plenty of time to move in closer. At this point I don't care about being seen, but Julianna's attention (as are most girls at this point) is firmly on her boyfriend…and that ring! I snap away while he puts the ring on her finger, and she's just glowing with the biggest grin ever, cycling between shock and joy. I love this moment!

Eventually she notices me, and we all reveal that both myself and the guitarist were all planned to be there in advance, creating more emotional waves of disbelief and happiness about the lengths Brian went to make this moment special. From there, we spent about 20 minutes taking a bunch of great photos around the water – basically a mini engagement session. Everything went off so well, I hope they treasure these photos for years to come!

View all the photos from this wedding proposal here.

Booking Info

Interested in scheduling a GoodEye engagement shoot? Check out my engagement packages and availability before you contact me.  

About Chris (GoodEye)

If you don't think you have what it takes to look like one of the couples on this page – you're wrong! With a little coaching and a couple shots of tequila (I jest…), you can get results just like all the other "normal" non-model people you see here. I've been shooting engaged couples for quite a few years, and I absolutely love it. It's a challenge that I embrace – and let's be honest, you two will be way more cooperative than a couple of cranky toddlers – right?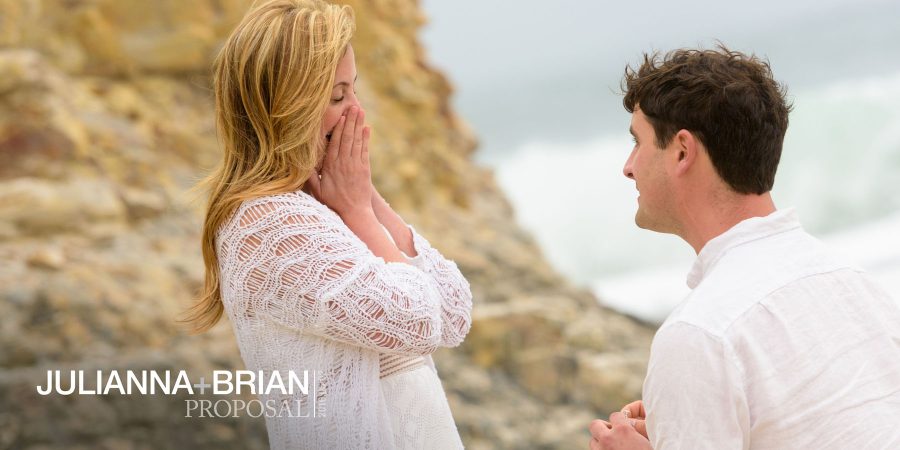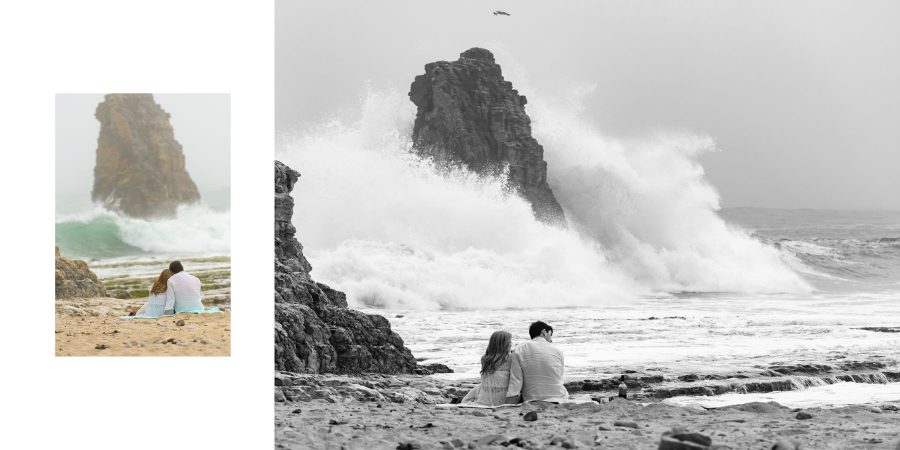 HUGE waves crashing the whole time. They're enjoying wine here, Brian's looking over his shoulder towards Michael, who's playing his guitar to himself.


Brian's like, "what the hell – let's see if he'll play for us" // Brian to Michael (I'm guessing here, I don't read lips haha) "Hey man, thanks for coming – here's what I owe you, let's do this!"


More enormous waves, I'm getting a little nervous since tide is still coming in. Brian and Julianna dance to Michael's sexy tunes, thoroughly soaking up the moment. I'm hoping they don't get soaked, period.


"Man, Michael is really killin' it on that guitar… I don't want this moment to end, but I think it's time…"


Brian gets down on one knee and pops the question. Actually he talked to her for a long time. I imagine he was saying how awesome she is and how he can't wait to spend the rest of his life with her.


The reveal – Julianna (finally) notices me and we explain how it was all set up by mastermind Brian over here.


Cute B&W candid moment, Julianna is so excited!


Check out that ring! Love it 🙂


B&W shots kissing on the beach. So romantic!


Brian surprises us all with a great dip… and the ocean surprises them with her freezing tendrils.


Walking on the beach, holding hands, getting splashed more by the cold water (B&W).


I direct them a lot, running, swinging, jumping on his back – gotta keep these guys in motion and warm!


Love these two B&W shots, showing their natural chemistry; really intimate and special


There's that ocean again, trying to cool things down a bit


Brian says something about the railroad tracks being metaphorical, so I tell them that just around the bend is some crying babies. I don't think he was ready to hear that LOL.


And we end with some more kissing on the metaphorical train tracks. Mission succeeded.
Looking for some creative proposal / engagement photos in Santa Cruz? Bay Area Wedding and Engagement Photographer Chris Schmauch makes you both look simply amazing! Call (831) 216-6210 or fill out this nifty contact form (for serious inquiries only). 
Recent "Engagement" Posts: