I last met Danielle and Tony during their romantic engagement session at Felton Covered Bridge Park and Loch Lomond. It was great practice for them leading up to the wedding day. Instead of meeting up with Danielle (typically us photographers meet up with the bride first), I met Tony and his groomsmen at Tony's parents house. It's not too far from the Kohl Mansion, where I'd meet up with Danielle later. Scroll down for the highlights of the day, or visit www.GoodEyePhotography.com to browse all 1,000+ photos.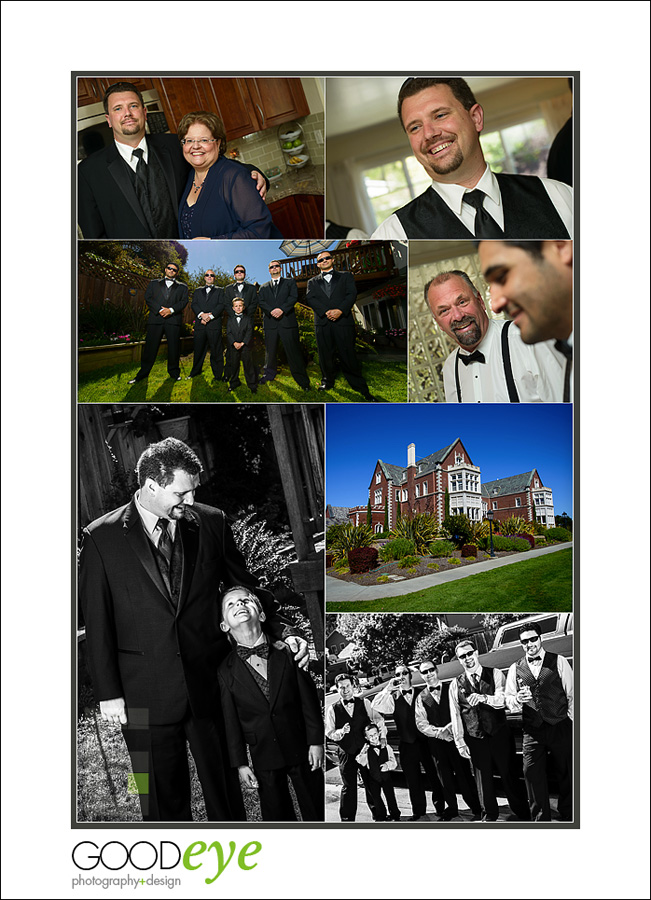 Tony's mom's back yard made for some great groomsmen group photos. There's the view of Kohl Mansion when I drove up. Pretty stunning sight.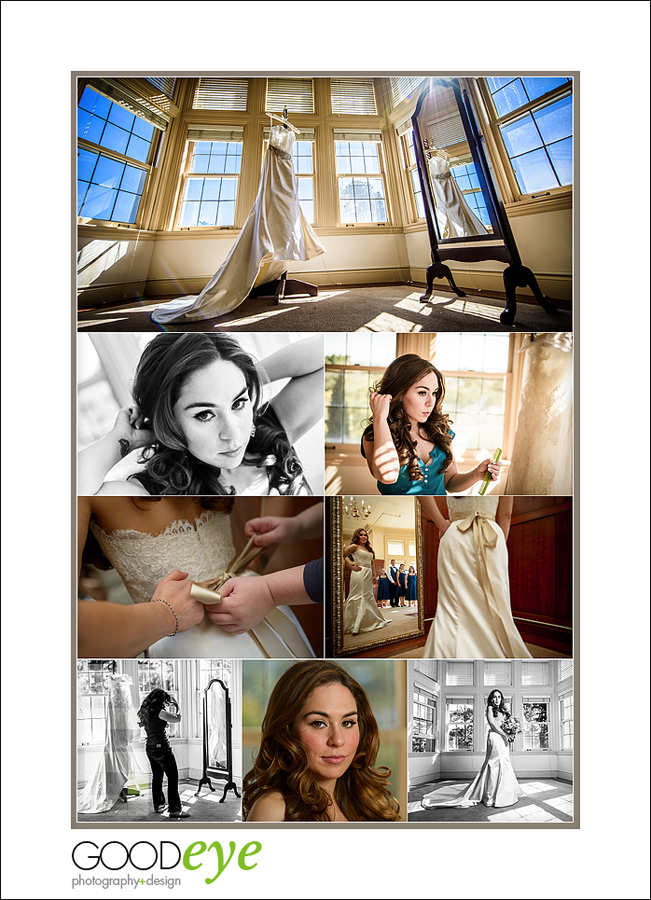 Kohl Mansion probably has one of the largest bridal suites I've seen. Anywhere. The downside? There's no a/c – so if it's a hot day (which this was), the fans do little more than blow the hot air around. I really love the window nook area – we got so many dramatic portraits here. You can see Danielle's dress hanging here. I think the standing mirror is another nice touch.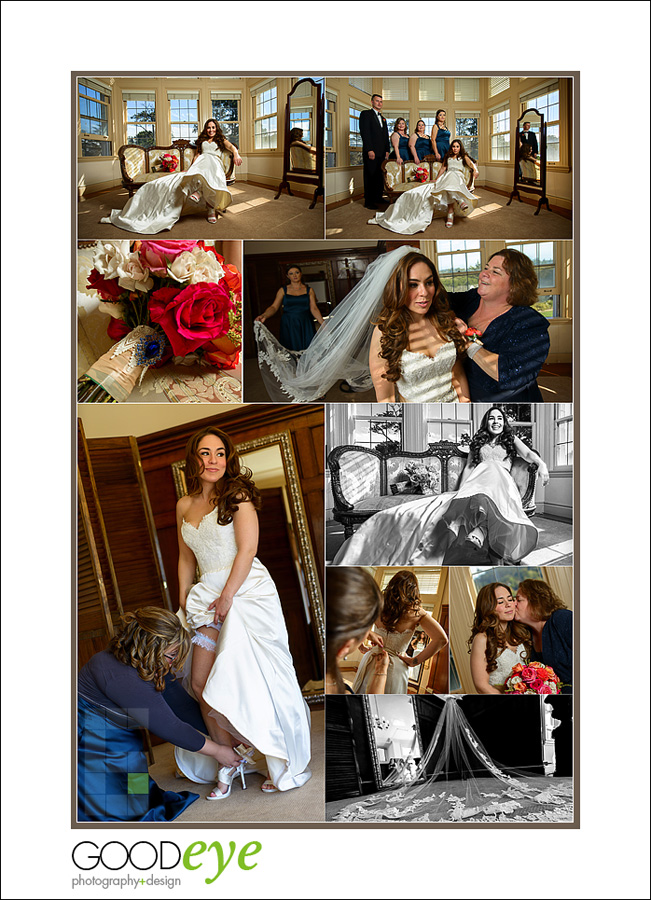 This light would be really challenging if I wasn't using my own studio lights. I love natural light as much as the next guy, but it's not always working for you.


The sun is at a dramatic angle for the bride and her father's approach to the outdoor ceremony. Check out all those rose petals on the aisle!


Okay, so it was pretty windy this day. BUT Danielle rocked the long veil, adding drama to the photos, and a little extra work for the bridesmaids…


Bride and groom formals time – again, rockin' the long veil. There's a neat little frog pond in the courtyard of Kohl Mansion, and a low, wide shot to get their reflection in the water worked well. 


The maze garden made for some great shots – as long as the dress and veil didn't get caught on the rosebush thorns (!). We then moved inside the mansion for some formal (and goofy) bride and groom portraits.


Look. At. That. Cake. And the table centerpieces. And the candy bar. I *love* the details from their wedding. Big props to Amy Burke Designs for her hard work!


I love kids. They just don't care. They run around, throw sh!t and provide general entertainment for some, and headaches for their parents. But I'm there to capture it all. I love the shot of the kids throwing rose petals in the air. Then I was tracking the ring bearer as he ran across the courtyard… and slipped. This shot is right before rear met cobblestone. Don't worry, he was uninjured, which is more than I can say for myself if I'd done the same!


Elegant, fancy, gorgeous. Kohl Mansion's reception hall is a sight to behold, especially when decorated well. The room is even taller than it is long, with a second-story level you can look down from. I put my studio lights up there to help make the photos magazine-worthy, as bouncing from my camera's flash was not gonna happen. My method worked really well for this venue.


I love the shot of the bride and groom dancing inside while I'm outside in the courtyard. Showing off my off-camera lighting? You bet.


It's sad that cake had to be cut into, but for a second I thought Danielle was going to cut into something else 🙂


Some great action shots of the bouquet and garter toss! Plus, a view from above.


Some yummy shots by the bride and bridesmaids (or maybe not so good?), and I couldn't resist getting ring shots at the candy "bar."


More adorable kids. Tie-yanking dance moves. Outside night shots from the frog pond. Cool stuff.




The dancing and drinking made for an exceptionally fun evening. I hope you like the photos!
Planning a wedding at Kohl Mansion in Burlingame?
Bay Area Destination Wedding Photographer Chris Schmauch wants to shoot your big day! (831) 216-6210
If you haven't already, feel free to review our portfolio site, browse past weddings, check our romantic engagement sessions, follow our business on Facebook (like us while you're at it!), or read our awesome Yelp reviews.